Create a big impression with pulp
We want to give you the chance to make a big impression. This is why sustainability is constantly present in our daily operations. We include the whole value chain in our approach: starting from sustainably managed commercial forests and eucalyptus plantations.
In UPM's circular economy valuable wood is used wisely
Wood and its efficient use are the core of UPM operations. We turn all side streams and residues into raw materials for new products. We reuse materials traditionally considered as waste several times and create added value through smart solutions. This also enables us to circulate water we use in the production process several times. Only a small portion of water leaves the process as effluent.
See how our circular economy works
Pulp as part of our circular economy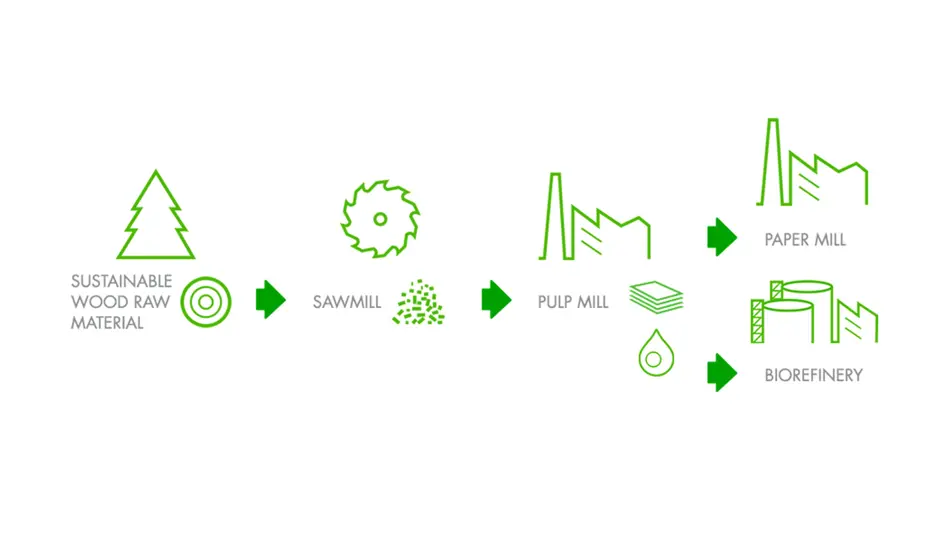 In Finland the logs harvested by UPM are used in UPM's sawmills and plywood mills. The side streams from these mills – wood chips and sawdust – are used in pulp production, and residues such as branches and bark are used for bioenergy generation.
Pulp is used for making paper, tissue and board. One of the residues of our own process – crude tall oil – is in turn used for production of renewable biofuels. By-products such as turpentine are sold as raw material for other industries.
Biofore forms the backbone of UPM's sustainability thinking and responsible business practices. Making more out of less is crucial for resource efficiency, and a major source of cost-effectiveness and competitiveness. Here are some of our achievements.
Chemical oxygen demand (COD) load
-50% per tonne of pulp
Wastewater volumes
-20% per tonne of pulp
Water consumption
-30% per tonne of pulp
Our pulp mills have turned from
energy buyers to energy sellers
SO2 emissions
-60% per tonne of pulp
Share of certified wood and fibre
85% (+50% in 10 years)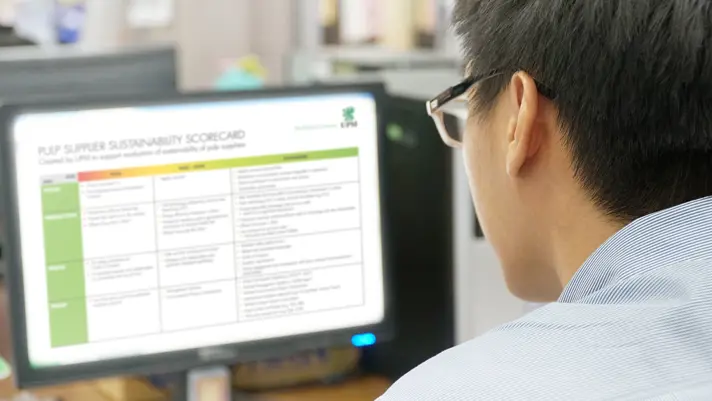 How sustainable is your pulp supplier?
We have created the Pulp Supplier Sustainability Scorecard to support you in evaluating the sustainability of your pulp supply. It's a transparent indicator measuring the sustainability of pulp in four categories: wood raw material, mill operations, stakeholder engagement and verified proof of performance on a scale of poor to outstanding.

View Pulp Supplier Sustainability Scorecard (PDF) »

View UPM Pulp Environmental Rules (PDF) »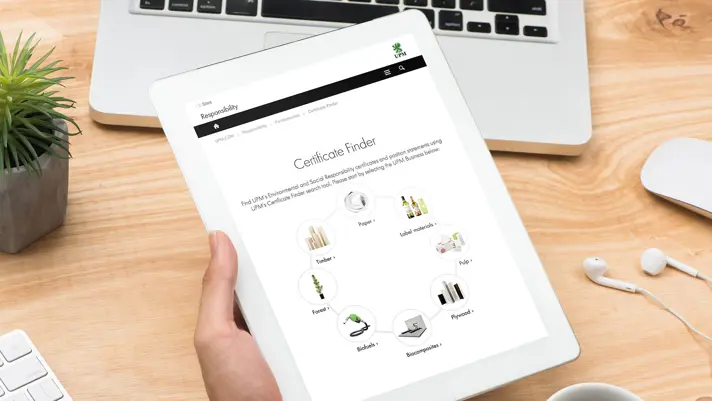 UPM Certificate Finder
We strive to provide the best possible products and services that are in line with international standards. Find all our environmental and social responsibility certificates and statements as well as quality-related documents.
Make a lasting impression