Buying a poppy ahead of Remembrance Sunday and Armistice Day, which annually marks the end of hostilities on November 11, 1918, is normally straightforward. However, Covid-19 and a nationwide lockdown means that veterans, many of whom are elderly, have been unable to sell poppies in person and raise the much-needed funds to support the Armed Forces community and their families.
Typically, 250 kilometres of specialist red paper is produced to make the more than 40 million poppies that are distributed, but this year the figure is down due to the pandemic. While the situation is challenging, it was UK Secretary of State for Defence Ben Wallace who reminded the country that "we won't neglect our duty to remember."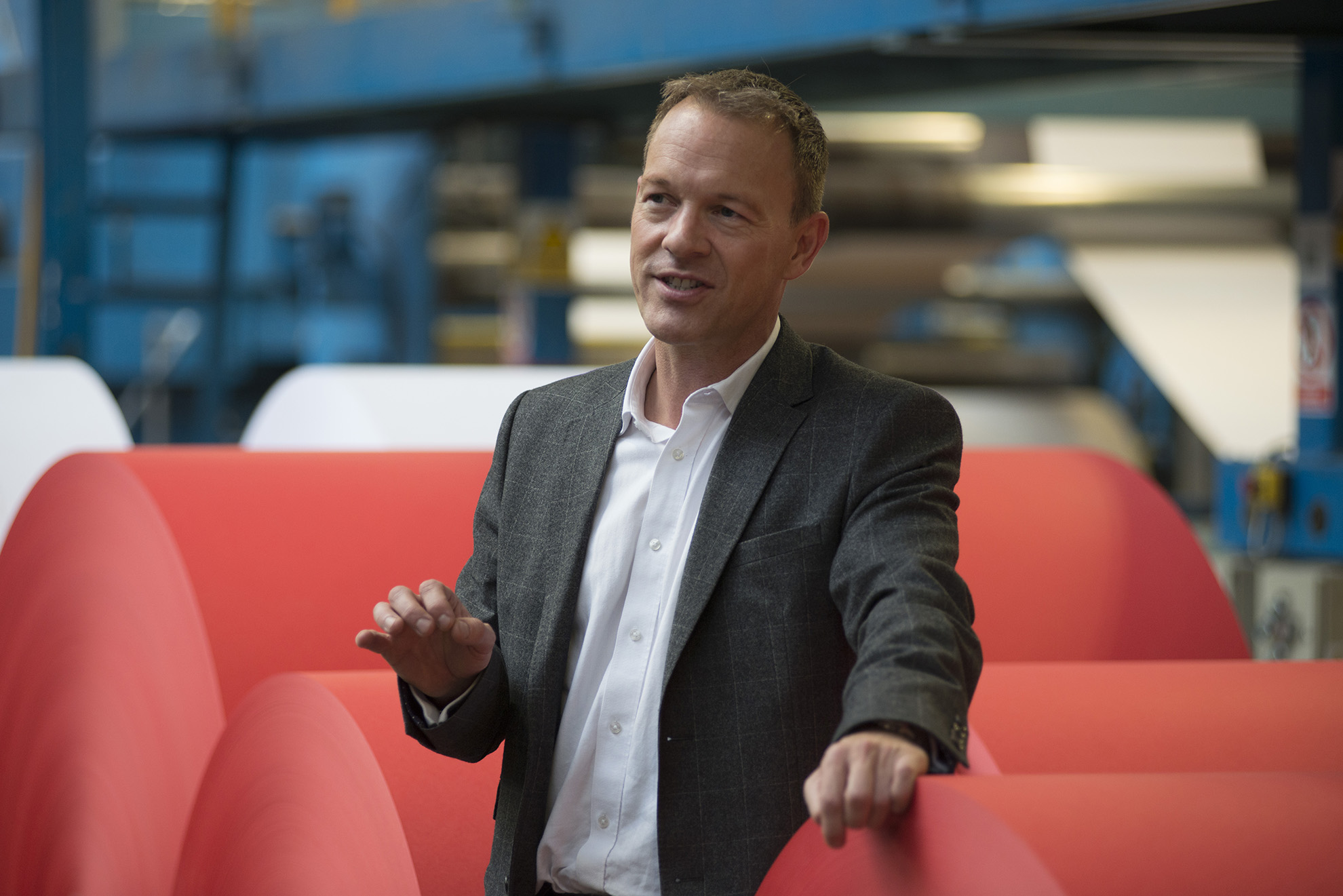 James Cropper's CEO Phil Wild alongside the red paper used to make poppies, which is created from pulp supplied by UPM's Kaukas mill. Photo credit – James Cropper PLC
A proud part of the Poppy Appeal
The first Poppy Appeal in 1921 saw nine million paper poppies distributed by The Royal British Legion, raising money for veterans' employment and housing. This symbolic gesture of remembrance for fallen soldiers has become a common sight on the streets of the UK and the Commonwealth in late-October and early November.
For almost 50 years, the poppy has started its life at the James Cropper paper mill in the Lake District, northwest England, which has been supplied with pulp by UPM Kaukas mill for over a century. Founded in 1875, the specialist paper producer began by manufacturing the bespoke red paper used for the flower and later the bespoke green for the leaf, both of which use colour-fast and biodegradable paper.
"We've remained open through the pandemic and have continued to produce the poppy paper as we've done for the past 47 years, producing over 50 miles of paper. We hope the sales of the poppies are not too affected by the pandemic, as this is such an important cause," says Phil Wild, CEO of James Cropper PLC.
The firm is very proud to be part of the Poppy Appeal and Wild says that finished poppies are readily on sale on site for employees. He adds that there is also a plaque dedicated to the memory of employees who fought in the two world wars.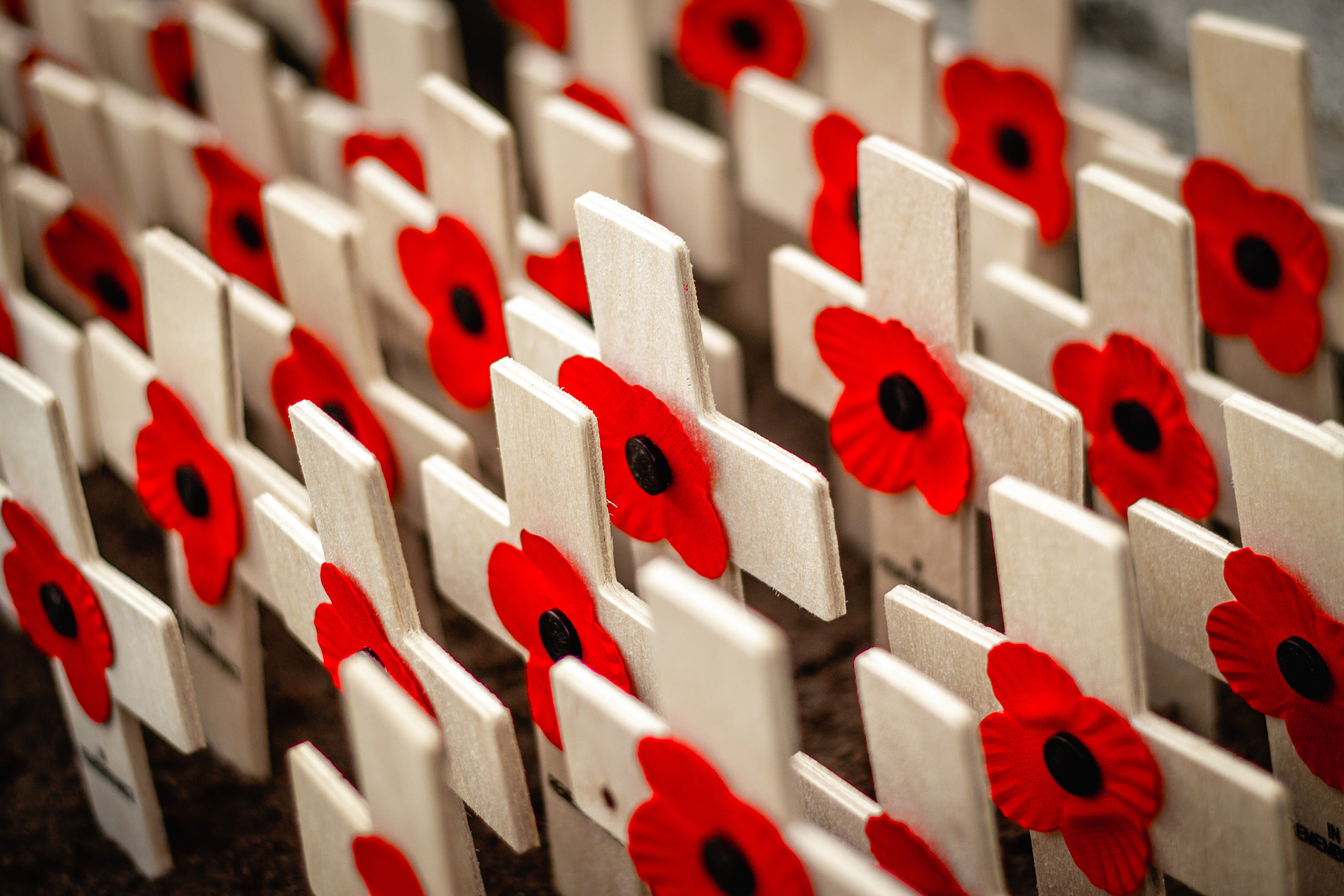 Armistice Day is marked on November 11th, at 11am every year. Photo credit – Chris Sansbury, Unsplash
Remembrance Poppies go online
The Poppy Appeal is the Legion's biggest fundraising campaign of the year and usually raises about £50m, most of which comes from cash donations. Since the health and well-being of the people they support, their staff and volunteers are a priority, alternative approaches to cover the loss of street sales have been found.
"Without the thousands of amazing volunteers collecting donations as they normally would because of the pandemic, a greater emphasis has been placed on digital fundraising, which is proving to be extremely popular," explains Fraser Bedwell, Head of Marketing for Poppyscotland, which oversees the Scottish Poppy Appeal and works in conjunction with the Legion.
An online donation won't get you an official poppy, but you can download an A4 poster of the iconic flower to print and display at home. There are, however, some sellers out on the streets, as well as poppies available in supermarkets and other stores that allow customers to use contact-free methods, such as QR codes and Text to Donate.
Funds raised by the Poppy Appeal help to ensure that serving and ex-serving personnel, as well as their families, can receive vital, life-changing services, especially during these unprecedented times. The requests for help can range from financial and housing problems to emotional and health crises.
For Poppyscotland, their welfare services have continued almost uninterrupted since the first lockdown began in March. "We continue to adapt as the situation around us changes, and the demands of our Armed Forces community changes. We are placing a greater focus on supporting veterans who are at increased risk of social isolation," adds Bedwell.
Paying tribute from home
For the first time, the service at the Cenotaph in London will be a closed ceremony. Usually around 10,000 people gather to pay their respects, but the nation is being asked instead to watch the broadcast from home and gather on their doorsteps to observe the two-minute silence at 11am.
Veterans are also being encouraged to share their stories and messages of remembrance on social media by using #WeWillRememberThem. In addition, the posting of tributes is being encouraged on the Legion's virtual Field of Remembrance or on the Commonwealth War Graves Commission's Wall of Remembrance.
With the Legion and Poppyscotland set to lose out on millions of pounds in donations, it is important to remember that, whether printed online or manufactured from bespoke red and green paper, every poppy counts.
Text: Asa Butcher
Main image: James Cropper PLC