According to the Sixth Assessment Report by the Intergovernmental Panel on Climate Change (IPCC), emissions of greenhouse gases from human activities are responsible for unprecedentedly widespread, rapid and partly irreversible changes to the climate. The magnitude of these changes is dependent especially on how we are able to limit carbon dioxide emissions in the future. Mitigating climate change requires even more urgent actions and decisions for achieving emission reduction targets. Limiting the use of fossil fuels is the most important means of tackling climate change.
For its part, UPM is committed to concrete actions in the fight against climate change. The company has ambitiously set a target to reduce its CO2 emissions from fuels and purchased electricity by 65% from 2015 levels by 2030. This target is approved by the Science Based Target initiative (SBTi) and in line with the Paris Agreement, which aims to limit the global temperature increase to 1.5 degrees.
A new tool is in development for reporting the energy consumption and CO2 emissions of pulp mills, helping to reach the company's target of reducing emissions by 65%. The tool helps both our business and individual sites by providing real-time data on their emissions and offering a transparent system of reporting data to customers and other stakeholders.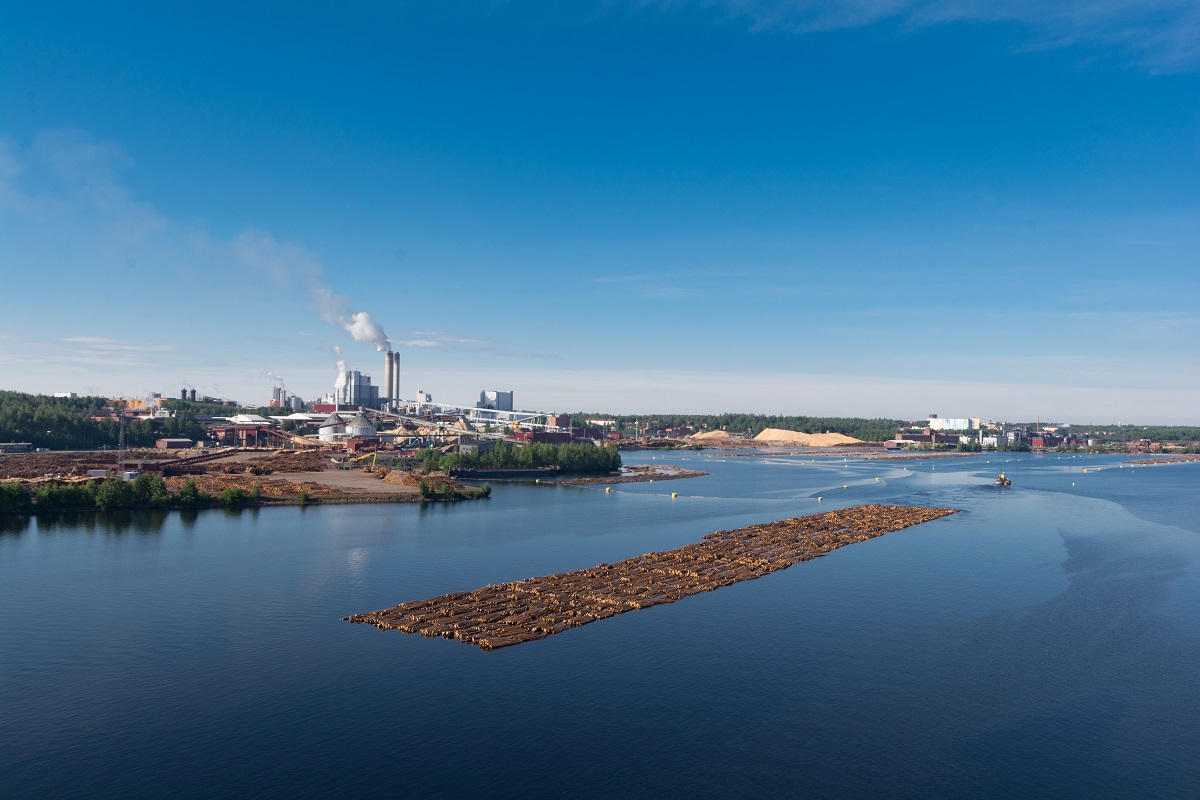 Instead of buying energy, our pulp mills are energy sellers. Photo: UPM
Clean and energy-efficient production
UPM's pulp mills are modern, extremely energy-efficient facilities that produce plenty of surplus clean energy, mainly from renewable biomass. Most of the energy in pulp production is generated by burning biomass-based black liquor, a by-product of the production process. In addition, fossil fuels have been replaced with biofuels, and we are continuously looking for alternatives for the remaining non-renewable fuels. Pulp mills' share of UPM's CO2 emissions is around 6%.
The surplus bark left over from pulp production is sold to energy producers. The share of renewables of all the energy used in our pulp mills is around 95%. Our Pietarsaari mill has already reached a level where no fossil fuels are used during standard operations.
All our pulp mills generate steam and electricity simultaneously in combined heat and power (CHP) plants. UPM's Kari Saari, Senior Manager, Management Systems and Sustainability, says that the technology of pulp mills has become significantly more energy-efficient over the years.
"Previously, for example, the old generation of recovery boilers could not generate enough energy for the entire mill integrate, so a separate power boiler was needed to produce steam energy. Nowadays modern recovery boilers can produce more energy in a higher pressure and temperature with less fuel. All UPM pulp mills sell clean surplus energy to the energy market, which helps to replace electricity generated from fossil sources," Saari says.
According to Saari, examples of the improving energy efficiency of pulp mills are multiple-effect evaporation for removing water from black liquor, which uses less energy, and the development of more efficient process equipment throughout the fibre line.
All in all UPM's goal is to improve our energy efficiency by 1% every year. Energy audits, carried out regularly since 1997, new innovations, and the company's internal energy efficiency network have all helped us to reach our energy targets in practice. Today all UPM pulp mills are certified according to the ISO 50001 energy standard, which helps us to further improve our energy management.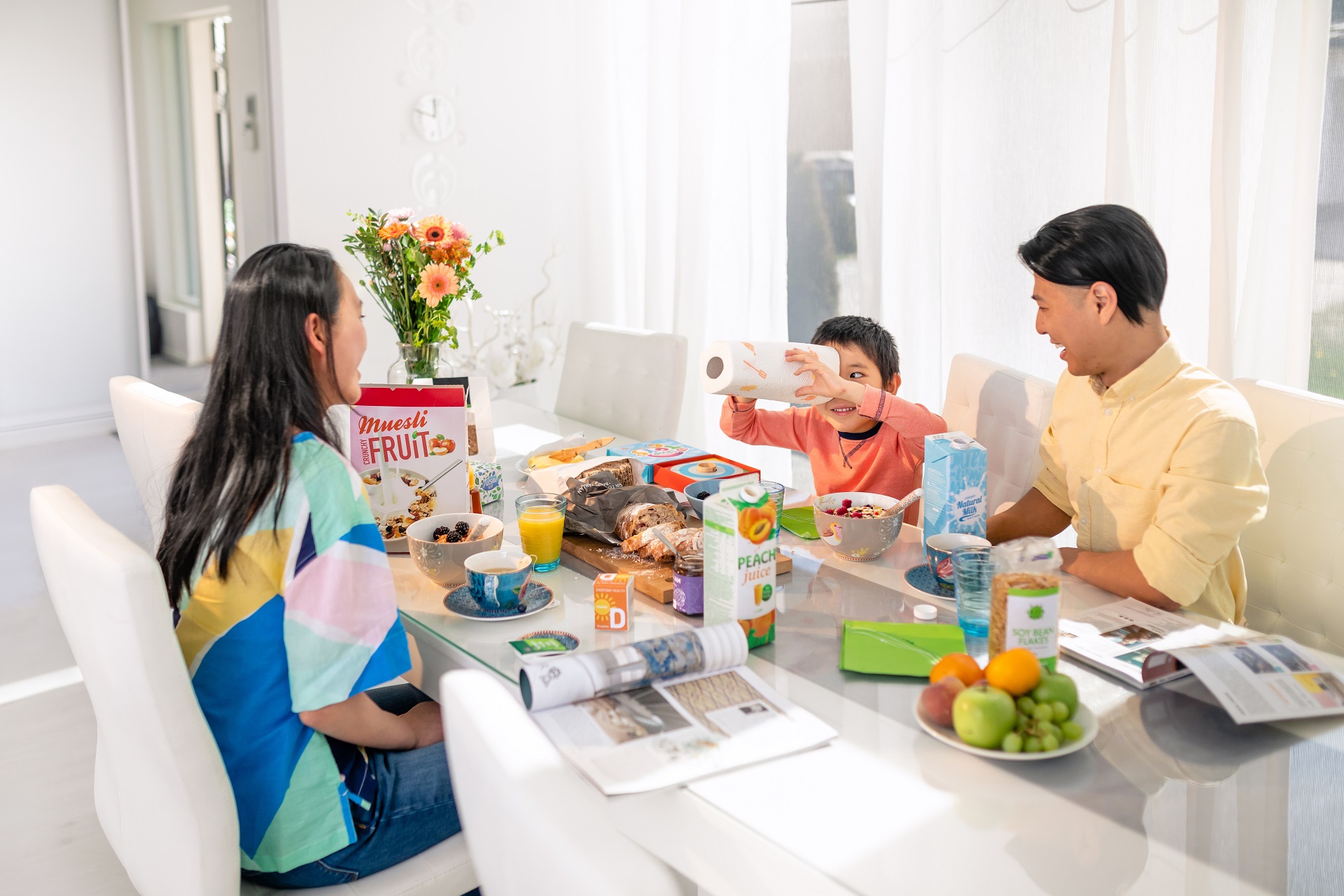 Made of renewable wood raw material, pulp-based products are a responsible choice. Photo: UPM
Towards a carbon neutral supply chain
UPM has set a target of reducing its supply chain emissions by 30% against 2018 levels by 2030. Saari notes that emissions from sourced products and raw materials, and the emissions that come from their transportation, can best be affected by wisely selecting partners that share common values with UPM.
"We are currently in discussions, for example, with our main chemical suppliers regarding their emission reduction targets and preparedness for reporting emissions. At the same time we have an ongoing project with the aim of creating a uniform reporting system for calculating CO2 emissions during the manufacture of a product (cradle to gate)," Saari explains.
Developing a responsible supply chain requires that more and more suppliers are committed to cooperation and reporting their emissions in a commensurate way.
Alternatives for fossil-based products
Both sustainable forest management and the innovation of novel, climate-positive products support climate-related targets. In Saari's view, pulp answers the fundamental objective of sustainable development - adjusting our actions to the carrying capacity of the environment.
Pulp production is part of the circular economy, where the value of materials is returned into the product cycle. In this sense our Kaukas mill in Lappeenranta is a prime example: its production residues are used as raw material, for example, for wood-based diesel, naphtha, turpentine, pitch and sodium bisulphite.
"Pulp is much more than simply a raw material for paper. It is truly a material of the future, where only the sky is the limit to the ways in which it can be utilised. For example, pulp provides an alternative to using plastic in packaging and, among other things, its use as a textile fibre and in composite materials and products for the chemical industry is currently being researched," Saari points out.
Text: Timo Nykänen