Back in 2015, about a month before Christmas, UPM's maintenance development manager in Finland, Tero Junkkari, was invited to the office of Jyrki Ovaska, Executive Vice President, Technology at UPM. For a couple of years, the talk of the town had been the Internet of Things (IoT), particularly industrial internet; and Ovaska was keen to know how this could be taken advantage of across UPM.
After the meeting, Junkkari walked out with permission to start developing cloud-based technology for the utilisation of data in maintenance. In 2016, his team began experimenting with machine learning and analytics at the Kymi pulp mill, figuring out how to track and report the performance of the pump. Where did possible problems lie, and could they be prevented in advance? What did the machine's life cycle look like? When was the right time for maintenance work?
The results were promising, but the experiment also showed that there is a lot that can be done concerning the availability and adequacy of data.
"At the time, the data we had was spread across different systems, so it was difficult and time-consuming to transfer, gather, combine and utilise," Junkkari explains. "However, as cloud technologies had advanced in huge leaps and become more and more common, bringing the data together, enabled more complex projections and predictions."
This is where the story of iPro really begins.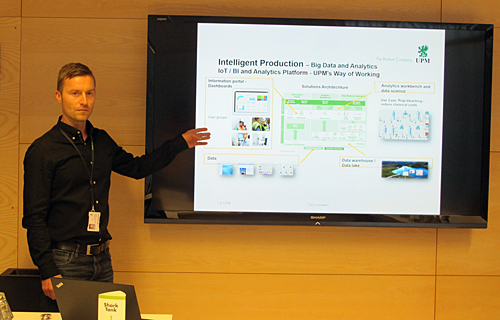 Tero Junkkari presenting iPro at UPM's internal shark tank event.
From a shark tank to all operations
iPro, short for intelligent production, was presented at UPM's internal shark tank event in 2017. It was well received by the jury, which meant that management supported its further development by providing the team with the resources they needed.
The project officially started in April 2017, and has been in the works ever since. However, Junkkari would no longer refer to it as a project. Instead, intelligent production has become an ongoing theme, aimed at bringing forward ideas and innovations as well as new technologies that can benefit operations, boost overall equipment effectiveness (OEE) and increase the efficiency of working hours.
On top of a concept, iPro is also the name of a platform that was built to bring together data from various source systems. Using a cloud, it enables the creation and utilisation of diverse data for developing new applications, optimising production values and, in general, finding more sensible and straightforward ways of doing things.
"In practice, it provides us with a much better picture of the overall state of our maintenance needs, so we can react quickly and spot possible problems and errors before they even occur," Junkkari says. "We're now in the process of developing process data, which means that we can track our equipment and act before, for example, a heat exchanger gets blocked."
Everyone on board – including the industry
Still, none of this would work if people actually doing the hands-on job wouldn't take part. Getting everyone on board has been one of the team's core tasks. The staff at all three mills in Finland have gone through workshops, organised to collect ideas for analytics that could help manage and develop processes and operations. Junkkari has been happy to notice that colleagues have been keen to contribute to the ongoing developments, adding valuable insight.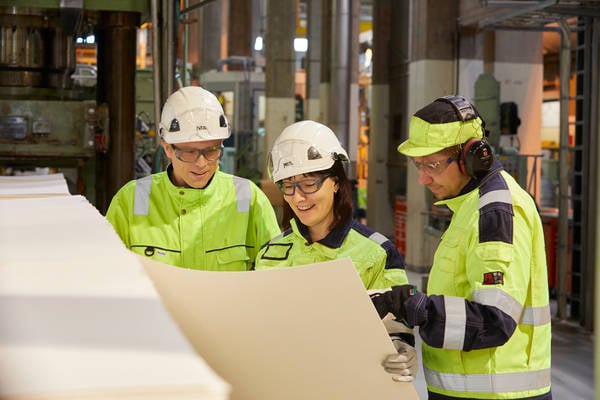 Intelligent production enables finding more sensible and straightforward ways of doing things and lets humans focus on what they do best.
The point of iPro is that the data is readily available in the system and automatically updated in almost real time, reducing the need for manual labour and making way for almost endless possibilities for applications. In other words, intelligent production makes machines work harder and lets humans focus on what they do best, which includes looking into the future.
Junkkari says that digitalisation will continue to bring about all kinds of changes, with data helping take steps towards not only a more intelligent production at UPM mills but a more intelligent – and thus, more effective, transparent and value-adding – industry.
"We are all in a state of transformation," he concludes. "As the pulp industry is a traditional one, the process has initially been slow, but we've already taken huge leaps forward. One day, we might be the ones spearheading the innovation."
Text: Anne Salomäki