While the world grapples with issues like climate change and peace, a rather sinister problem has quietly taken root, destroying businesses and people's lives. We are talking about counterfeiting.
In 2016, a joint report by the OECD and EU, titled 'Trade in Counterfeit and Pirated Goods: Mapping the Economic Impact', warned that counterfeit and pirated goods were worth an astonishing USD 461 billion per year. To put it into perspective, that is more than the GDP of Austria.
This figure is 2.5% - or USD 17.9 billion – of the total number of global imports each year, meaning that if you were to look around your living room right now, chances are you would discover a fake product – or at least one that has been tampered with on its way to your home.
Saving lives by being smarter
Fighting counterfeiting is not just about sustaining the profits for businesses. This is a matter of health and concerns the safety of billions of people. Fake medicines can cause illnesses; fake automobile parts can result in breakdowns and malfunctions; fake foods can cause allergic reactions; and each one of them could result in the pointless deaths of countless people.
The fact of the matter is that counterfeiters are smart, sophisticated and innovative, as Martin Bunce from Tin Horse, a UK-based company with more than thirty years of experience in the field of product design, explains. "In our industry, people were talking about holographic printing a few years ago and how it would help stop counterfeiters. However, suddenly they were able to reproduce these images meaning they are always one step ahead," he says.
The advent of internet shopping means that postal parcels now account for an incredible 62% of all fake goods in the world at present. Bunce believes that this is due, in part, to the more complicated distribution process that has arisen from the explosion of the online world. "Before, a product would be made at the factory, sent to a distribution centre and then to an individual supermarket. Nowadays, it can go through any multitude of courier systems before being sent to an individual's home. This increases the risk of tampering."
How do we stop these criminals?
So, what is being done to fight back against the counterfeiters? The answer could be both simple and environmentally sustainable: smart packaging.
By using advanced technologies and wood pulp based packaging materials, which are recyclable it is possible to guarantee the safety and authenticity of products, with minimal impact and cost to suppliers.
Thomas Treichel, an expert who works for UPM Raflatac in Germany says of the push to eradicate fake goods: "UPM Raflatac is offering a wide range of label materials which already provide a certain level of protection, but those materials can be customised to increase the level of security."
"The security features can be overt, covert or forensic. Additional levels of security can be added by the printer using different kinds of printing techniques or technologies and special inks. Just starting with the lowest level of security is already the first step in the battle against counterfeiting," he adds.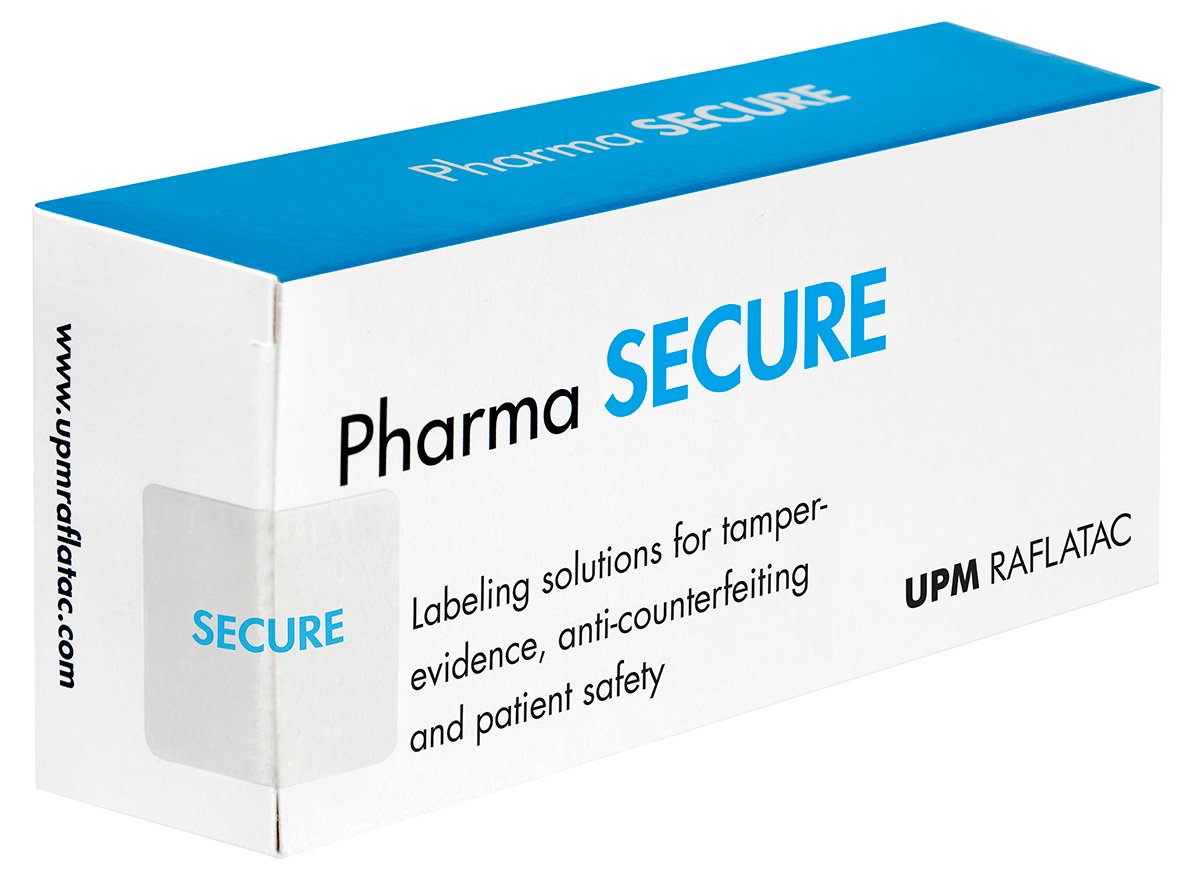 UPM Raflatac's Pharmaclear PP Seal RP62 EU introduces doubly effective counterfeit protection for pharmaceuticals.
Taking the fight to the counterfeiters
The key to smart packaging is the printing of each label, which receives a unique and traceable identity. As each label is coded like no other, it is virtually impossible to replicate and therefore counterfeit. Imagine trying to recreate a human's fingerprint or DNA and there you have the sheer level of difficulty required to crack smart packaging.
Each product can then be securely connected to the web before being scanned on arrival at each destination to make sure it is both authentic and intact using readily available technology.
Not only is this method already in operation but it will be able to evolve and modernise as challenges increase and criminals improve the quality of their fake goods. Treichel is confident that UPM Raflatac's breakthrough will only continue to improve as the company's research continues.
"Typically, security labels and packaging could contain several levels of security features and there is constant progress across every area, but the evolution of printed electronics will see the major developments. It means printed materials can include simple memory, sensors, logic, displays and even batteries to power components," he concludes.
Text: Craig Houston