If you want to get an idea of how important something is, imagine what life would be like without it. If pulp disappeared, life would be very different.
"If we think simply, there would be no printing or writing paper, no newspapers, magazines or books, no paper- or board-based packaging and no toilet paper or other tissue products," says Pirkko Petäjä, Principal of Pöyry Management Consulting.
Wood pulp is a versatile material used for a wide variety of products. "We can consider four main end uses for wood pulp. They are tissue, printing and writing papers, board and specialty papers. Each has different requirements for the fibres, depending upon the end product", says Emilia Moisio, Director of UPM's Sustainable Fiber project.
Yet before we talk about what we can do with wood pulp we should begin where it comes from: the forest.
Different trees for different uses
"The type of wood, the wood species, determines the quality and properties of the pulp made from it and defines how suitable the pulp is for different products," Petäjä continues. "For instance, softwood gives different properties than hardwood."
Conifers like pine and spruce are softwood trees. They have long fibres at a low density. The long fibres give it strength, so softwood pulp is often used to create sturdy products. Softwood also increases absorbency and is used for absorbent products such as paper towels, baby diapers and other hygiene products.
Leafy trees like birch and eucalyptus are hardwood. Their fibres are shorter which gives the product softness, so hardwood pulp is often used for tissue papers. Generally, softwood and hardwood fibres are blended in different proportions, depending upon the end product.
"In the pulp and paper industry softwood is especially wanted for its strength properties, for instance in packaging papers," says Petäjä. "From the hardwood species, eucalyptus is considered to provide very good softness and is considered as the best suitable wood species for soft tissue paper."
Nothing goes to waste
The sustainable management of forests is of utmost importance. Consumers are more aware of these issues and most customers have strict sustainability requirements like traceability of wood and different certificates for any wood pulp they use for their end products. Emilia Moisio gives an example of how forests are managed in Finland.
"For every mature tree that is harvested four new ones are planted," Moisio says. "You assume that one of the seedlings will die naturally. After growing for some 30 years, trees are fairly close together, so you thin one so the other two have room and sunlight to grow. After another 30 years you typically need a second thinning to get more room, nutrients, water and light, and thus harvest another tree."
Trees harvested from thinning are of small diameter and are used for pulp production. Full-grown mature trees go to sawn timber and plywood production, so they are used in pulp only as saw mill and plywood mill residual. The bulk of the logs becomes timber and plywood for houses, furniture and other wood products, chips and saw dust go to pulp while bark and branches produce bioenergy. The only part of a tree which isn't used is its shade.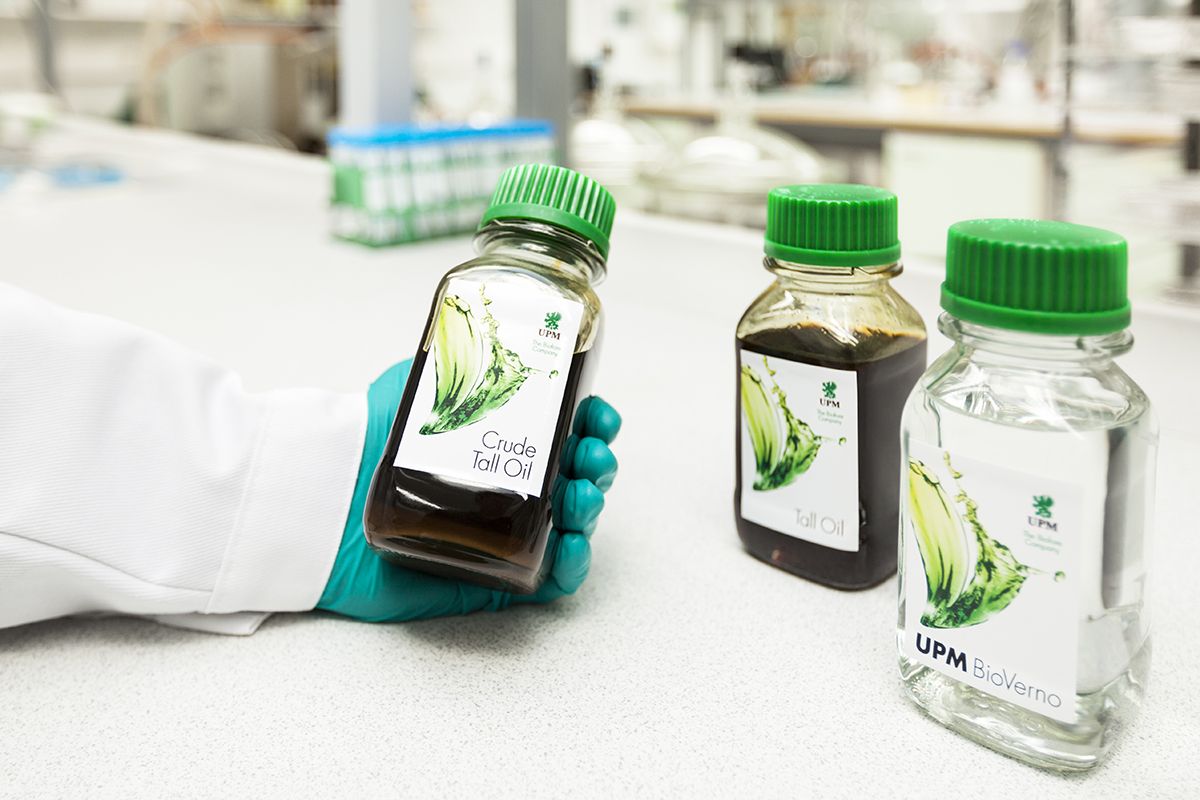 UPM BioVerno is a fuel made from crude tall oil extracted in the pulp production process
Even the process yields new products
Processing pulp involves cooking wood chips with chemicals under pressure. This removes lignin from the wood and separates the wood into cellulose fibres. The fibre is washed, screened, bleached, dried and finally shipped in bales to where it will be turned into a final product.
Yet even the process itself yields new uses. The lignin can be used to create new products or burned to produce bioenergy. In fact, modern pulp mills produce more energy than they consume so they provide electricity to the local inhabitants and businesses. Side streams and residues of the process, such as turpentine and crude tall oil, can be used to create renewable diesel or biochemicals.
The future of pulp
But the story doesn't end with traditional pulp uses. Advances in technology mean you now have products made from pulp or the residue of making pulp that you can eat, wear, power your car or even to conduct medical research.
"Biochemicals and textile type of products are not exactly made of standard pulp but of variations of the pulp process and the same raw materials or residuals of the pulping process," Petäjä explains.
Creating clothing out of wood is an exciting field while UPM already produces renewable naphtha that is used among others as raw material for bioplastic used in the coating for liquid packaging board for milk cartons. Medicine is also an emerging sector: UPM Biomedicals' GrowDex® is a hydrogel which is used in 3D cell culture.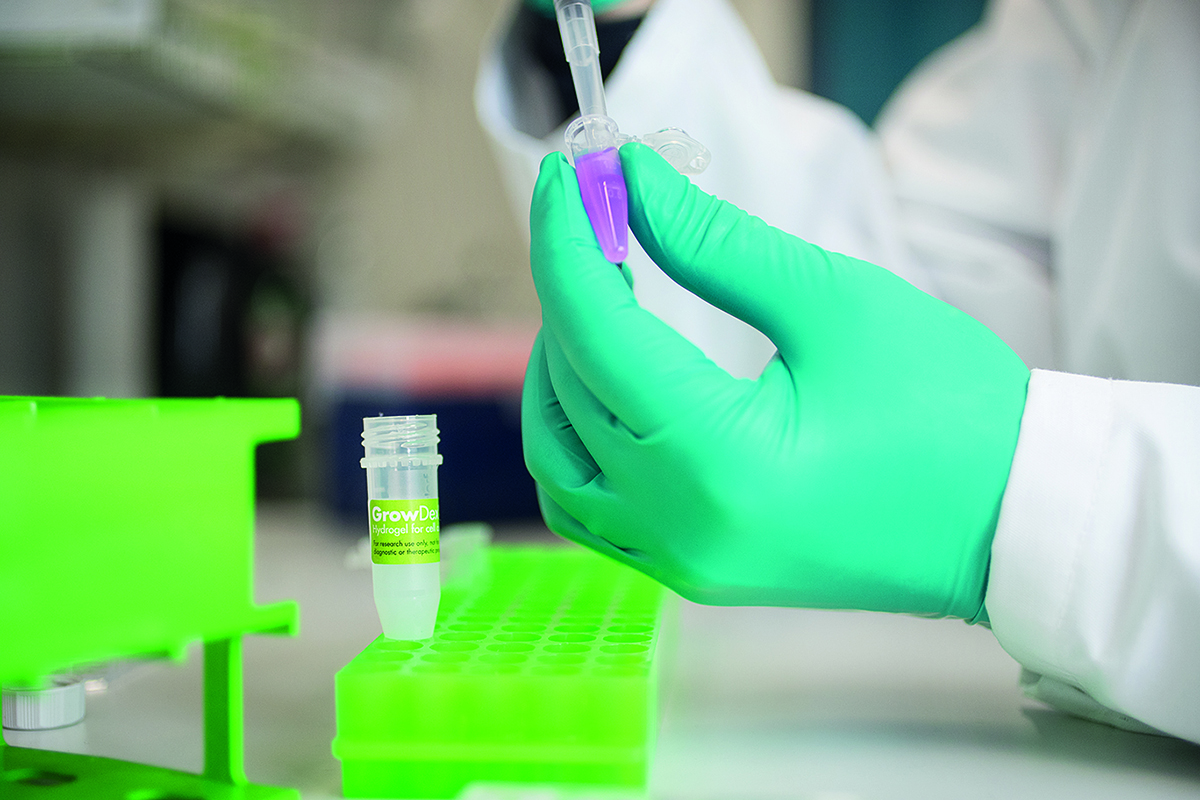 UPM Biomedicals' GrowDex® is a hydrogel which is used in 3D cell culture
"We are seeing wood as an excellent alternative to fossil raw materials," says Petäjä. "Bioplastics are going to replace fossil-based plastics and biochemicals are going to replace oil-based chemicals. There is of course a lot of innovation taking place and almost anything can be made out of wood raw material."
And, of course, the story doesn't end with the final product created out of wood pulp.
"About 70-80% of pulp-based paper and board products are recycled in Europe and the US," Moisio says. "And not just once: wood fibres can be recycled 7-10 times."
Text: David J. Cord