Back in the early 20th century waterways were the main means of wood transportation for the pulp and paper industry. As many as forty-four steamboats owned by various companies were toiling up and down the Finnish Lake District on the eastern side of the country. One of these little heroes was S/S Hurma, built in 1902 at the Viipuri Shipyard and purchased by Norwegian mill owners, brothers Salvesen.
These days, the S/S Hurma is the only survivor of that 44-strong fleet - thanks to UPM Forest. By acquiring and maintaining the vessel, the company remembers not only its roots but the industry's heritage as a whole.
The fact that S/S Hurma now sits in the harbour of Lappeenranta is nothing short of a miracle. It has been through thick and thin, working from early spring till late autumn. During the Second World War, it was doing its part by pushing through 60 centimetres of strong ice between the cities of Imatra and Lappeenranta and creating cracks, thus making possible attacks more difficult. Once the gutsy lady even sank but was eventually saved from the bottom of the lake.
Even today this veteran is not just resting on its laurels. For a month each year, it sets sail and entertains company guests and personnel alike. It can carry some thirty people plus a three-man crew of steamboat enthusiasts.
An experience to remember
A peaceful speed of around nine knots (15 kilometres per hour) proves to be a unique experience time and again. There is also a bonus available. In case you want to get your hands dirty, you can always visit the hot engine room. In the old days, S/S Hurma used to run on oil. That has now been replaced with a compound engine, consuming up to a cubic metre of wood collected from the various islands the vessel stops by.
S/S Hurma's most recent passengers came from Korea and were smitten by the experience. In conjunction with the sightseeing tour aboard the S/S Hurma, the Korean customers also participated in UPM Pulp School.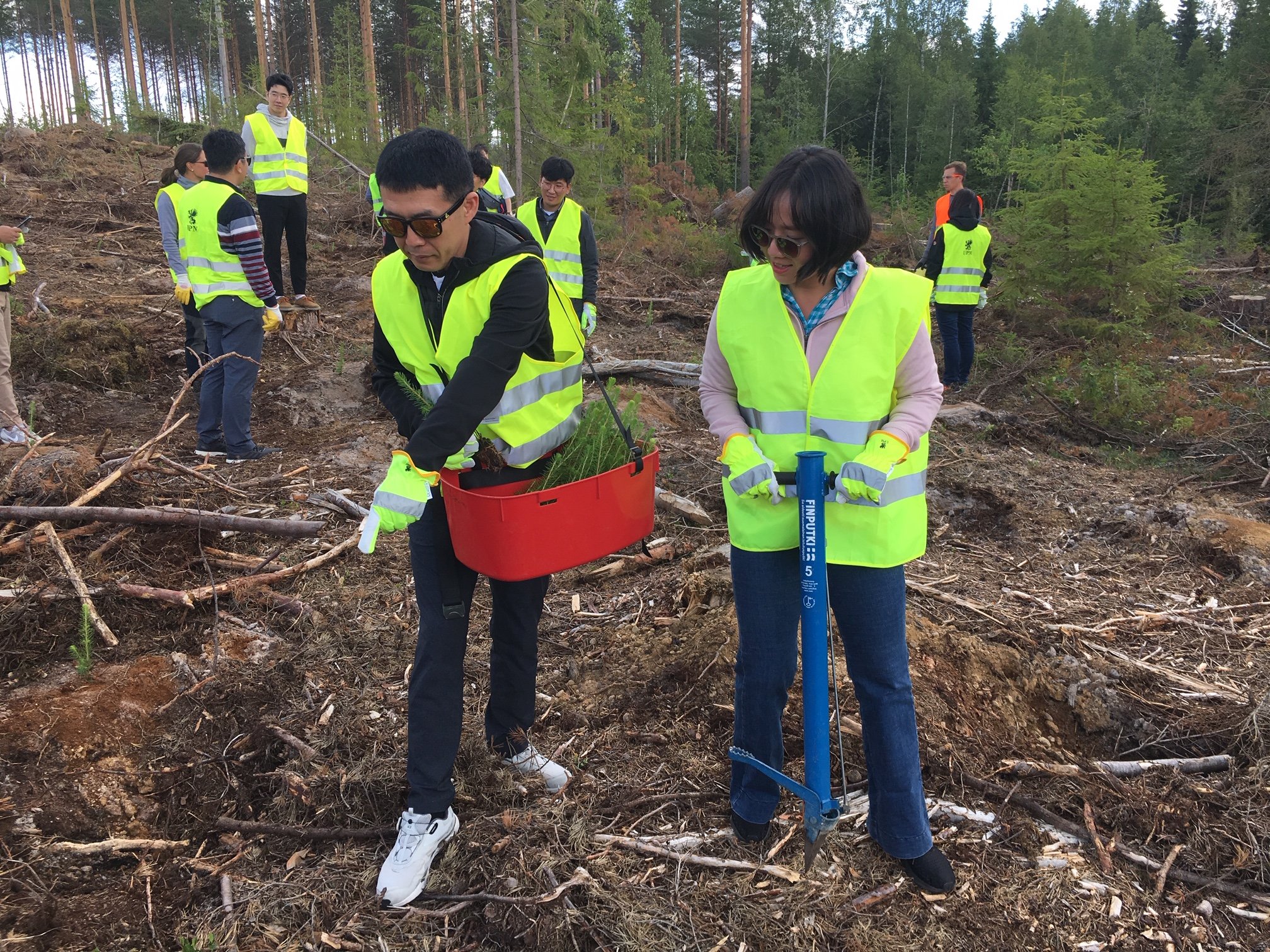 UPM Pulp School participants can try planting seedlings
"The boat and the view were so beautiful, I've never seen anything like this before. I will recommend this trip to anyone coming over," said Lee In-je of Moorim Paper Company Limited.
For Yuchul Jung of Hansol Paper, the cruise amidst Finnish nature signified something unique: "UPM is an exception in the industry. Its forest management skills stand out compared to other pulp makers."
Striking the perfect balance
Indeed. Apart from honouring the company pedigree, S/S Hurma can be seen as an embodiment of the current focus on biorefining and sustainability. A bridge between the past and future generations, if you like.
Kari Väisänen, Specialist, Operations at UPM Forest around Eastern Finland, who often rides the S/S Hurma, says there is a sort of renaissance in log driving or timber rafting. A development he welcomes.
"In the old days, at its peak, rafts consisted of some 10,000 cubic metres of wood. Today, that would be an equivalent to around two-hundred trucks. It is easy to imagine which method of transportation is more ecological and safer. Not to mention that it saves costs and is a more effective means of gathering raw material from a distance," Väisänen explains.
The amounts have been on a constant rise. Deploying traditional methods makes UPM an exception and a forerunner. It is the only company now going back to using waterways. This year, UPM estimates that rafts will consist of some 450,000 cubic metres of timber.
These days the work is done by sub-contractors. S/S Hurma, on the other hand, can represent its owner and the history of steamboats in various occasions. By far, the most memorable one was the trip to St. Petersburg and the city's 308th anniversary in 2011.
"We were part of a steamboat parade along the river Neva and stayed overnight anchored in the midtown. The cheering crowd were in the hundreds of thousands. That was something!" remembers Kari Väisänen.
Text: Pekka Vänttinen