The U-17 Women's World Cup has been organized since 2008 and it takes place every two years. The biennial international young women's football championship is contested between 16 national teams from all over the world. This year the cup is hosted by the small football giant of South America, Uruguay from November 13 to December 1, 2018. Before the kickoff, we met Emma Immonen, 17, goalkeeper in the Finnish national women's U-17 team and Sofía Ramondegui, 17, central defender in the Uruguayan women's U-17 team.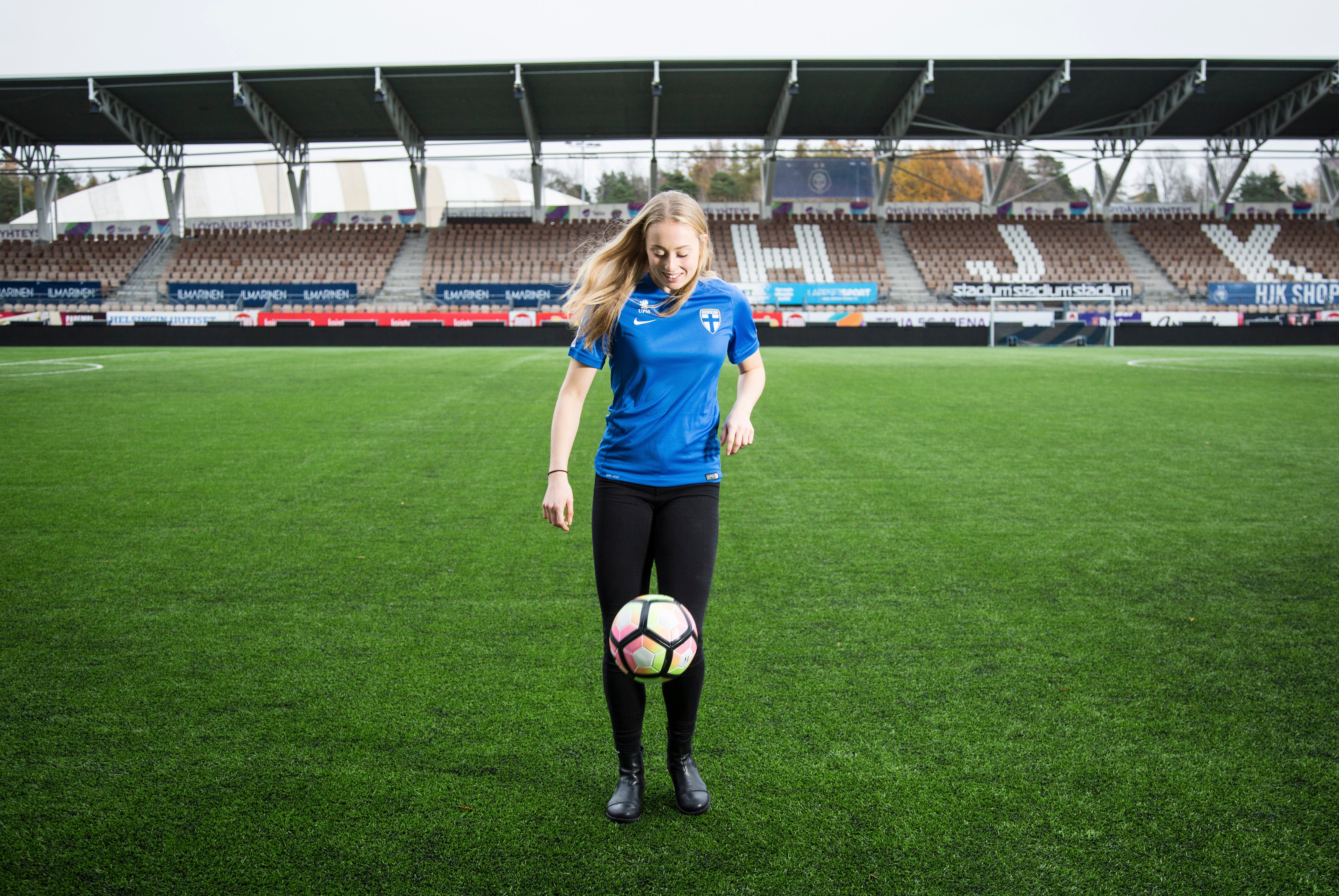 Emma Immonen showing us her football skills
"School is important, but football is even more so"
Despite the geographical distance, the girls' lives are remarkably similar. For both Immonen and Ramondegui, life revolves around football. Besides their respective national teams, Immonen plays in the Finnish women's league team PK-35 in Vantaa and Ramondegui in football club Palmirense of Nueva Palmira.
Both girls have been playing football since the age of seven and have grown up in a family of football enthusiasts. Immonen describes her family: "My father and big brother play football, and because of them I first got into it. And my mother is a typical football mom, always cheering from the side field."
Also, Ramondegui values the support she receives from her loved ones. "They even travel with me to all my matches no matter how long the distance."
The girls admit that they sometimes do struggle to fulfill the requirements of both high school and their football teams. Immonen, whose family lives in Tuusula, some 30 kilometres north from Helsinki, studies in Mäkelänrinne Upper Secondary School specialized in sports.
"At the moment it is football that structures my days", Immonen says. "Luckily my high school is very understanding, so it is relatively easy to combine studies and football with help from the study advisor. Even in tournaments, such as now in Uruguay, we have a couple of hours dedicated for schoolwork in our daily schedules and we can even take exams should we so need."
Ramondegui lives in Nueva Palmira, a town some 170 kilometres from Montevideo. She has had to take more radical measures to fit both studies and football into her daily life.
"This year with the World Cup and all the travelling and staying away from home in Montevideo, I switched from regular high school to a flexible program with free exams to be able to prepare for the world cup," she explains.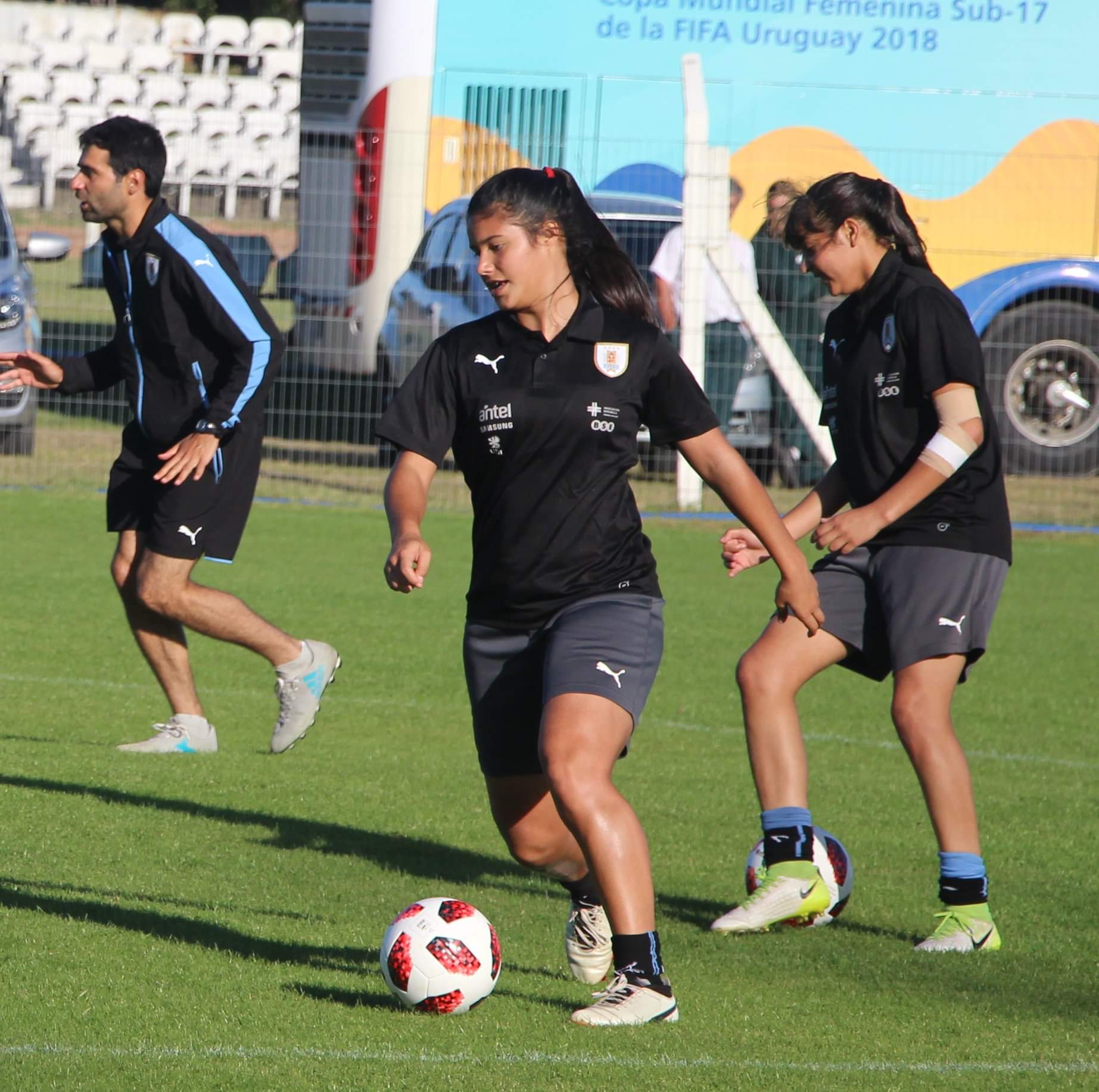 Sofía Ramondeguin training with her team in Uruguay
Hopes and dreams
As students, girls, and footballers, Immonen and Ramondegui seem to have their feet on the ground when it comes to their dreams for the future.
"I think in the end all players dream about becoming professional footballers," Ramondegui says. "However, at least in my country it is quite complicated to become one. Therefore, I will continue my studies to earn a degree in some useful field. What that is, I don't know yet."
The Finn agrees: "I still have a year and a half of high school left. If everything goes well, after that I would like to move abroad to study and to play football. At the moment I dream about studying in Sweden, because there I would be able to combine football and university. When it comes to my future career, I really don't know yet what I want to do when I grow up, but I believe there are plenty of viable options for me."
Immonen also dreams about making it into the Finnish women's national team: "I'm only 17. Usually goalkeepers play at their best when they're a bit older, but in the next five years I hope to make an entry in the women's team."
"Football means personal growth"
Football does not develop only physical skills. According to a recent study by the Union of European Football Associations UEFA, playing football and belonging to a team has a profound impact on teenage girls' mental and physical well-being, giving a welcome boost of self-confidence and empowering players to reach their goals.
Both Ramondegui and Immonen confirm the findings: "For me, football means personal growth in many aspects", the Uruguayan says. "You get to know new things and people as well as travel to new countries, all thanks to football. But the sport has also helped me grow both mentally and physically."
Immonen chimes in: "Football has definitely developed my interpersonal skills and taught me to get along with everyone. What I most like about it is all the new friends I have made and all the experiences I've had, especially since I've participated in the tournaments with the national team. And it absolutely has given me a lot of self-confidence."
A good bit of excitement
Both Immonen and Ramondegui say they are very happy with their preparative season preceding the world cup.
Immonen is confident she's in the best possible shape: "The training has gone well, and as a team we are very well prepared and committed both mentally and physically. We are not afraid, but of course there's a good bit of excitement."
Ramondegui also says she's confident not only with herself but with her team as well. "We have prepared ourselves very well and the expectations are good. However, we'll have to go match by match. Our first objective is to win a match and therefore make history: Uruguay's national women's team has never before won a match in a World Cup. Then it is just step by step."
The Finnish and Uruguayan teams are playing in group A alongside Ghana and New Zealand. The teams meet on Tuesday, 20th November, 2018.
Immonen is excited about the tournament: "From the group stage, what I wait most for is meeting the host Uruguay. I hope the home team attracts a big, loud audience."
Ramondegui is certain that the audience will give its full support. "Playing in front of a full stadium gives you goose bumps. And I am really proud and honoured to be wearing a Uruguayan shirt in a World Cup at home."
Text: Miia Kirsi