Think of Finland, and you'll probably imagine forests. It's Europe's most heavily forested country, with sixteen times more forest per capita than the European average. Woodland covers 23 million hectares, or about 75% of the land area. Given their scale, it is unsurprising that forests are considered to be Finland's most valuable natural resource. The forestry sector (which includes timber, plywood, paper and pulp production) accounts for more than 20% of the country's export revenue and employs, directly and indirectly, around 160,000 people.
The forests help more than just the Finnish economy, providing habitats for tens of thousands of species and sequestering carbon. They even make people happier: in 2019, for the second year in a row, Finland was named the happiest nation in the world in a UN report, with the country's vast tracts of wilderness cited as a contributing factor.
It is crucial, then, that Finland's forests are managed in an intelligent, sustainable way, so that their benefits can be enjoyed by many generations to come.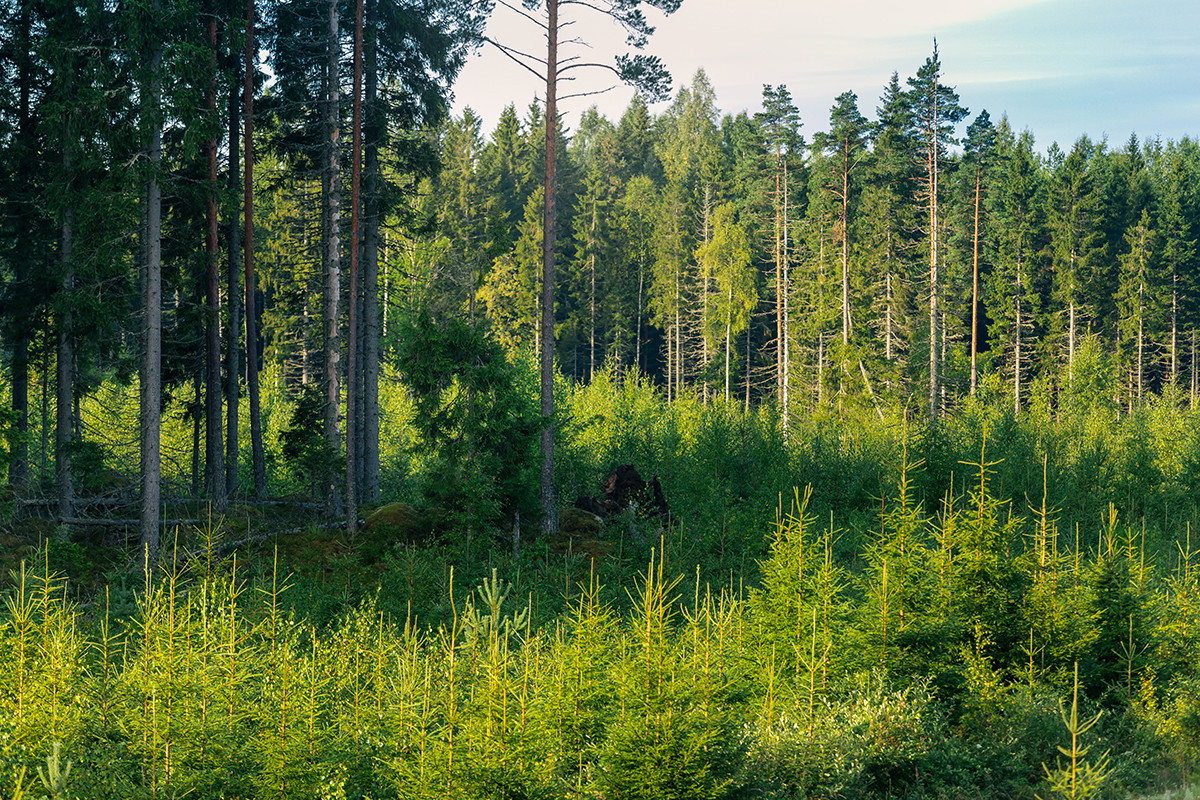 The Nordic model
At its core, sustainable forestry management is a model under which more wood grows than is harvested each year. This ensures that the forest is continually renewed, rather than depleted, and that the resources it provides are protected. But, just as the benefits of forests are far broader than the simple production of wood, responsible forestry requires more than just cutting down fewer trees than are planted.
Every stage of the cycle must be managed, from preparing the soil, planting new trees and carefully thinning the forest, to felling. The long-term life of the forest must be prioritised over short term profits.
Unsurprisingly, it was the Nordic countries—who have much to gain from their forest assets—which were among the first to get to grips with managing them sustainably. Throughout the 1970s, scientific studies of forest ecosystems were conducted throughout the Nordic countries, many of which were partially financed by the forest industry. Their findings were then incorporated into commercial strategies. In 1987 SCA, a large Swedish timber company, published a "Declaration on Nature Conservation" for their forestry operations. This included commitments to avoiding permanent damage to soil and water; protecting plants and animals; and maintaining biodiversity. Other Nordic companies soon began to follow suit.
Respecting the resource
So how does the process work in practice? Let's look at UPM's own forestry operations. Much of its wood comes from Nordic and boreal forests, with some sourced from plantations on former grazing lands. Approximately 10 percent of the wood used by UPM in Finland is imported from Russia and the Baltics. However, the company also cares for more than 1.5 million hectares of forest in Finland, of which roughly two thirds are owned by private forest owners and split into small estates.
Responsibly managing these resources is a long process. After the soil is prepared, UPM plants native seedlings. After 30 and 60 years (the life cycle of Nordic forests is around 80-100 years), two "thinning" operations are carried out, removing every second tree so that the others have space to grow. After the regeneration felling, the process begins again. However, this is a process that UPM is constantly assessing to ascertain whether it can be further improved.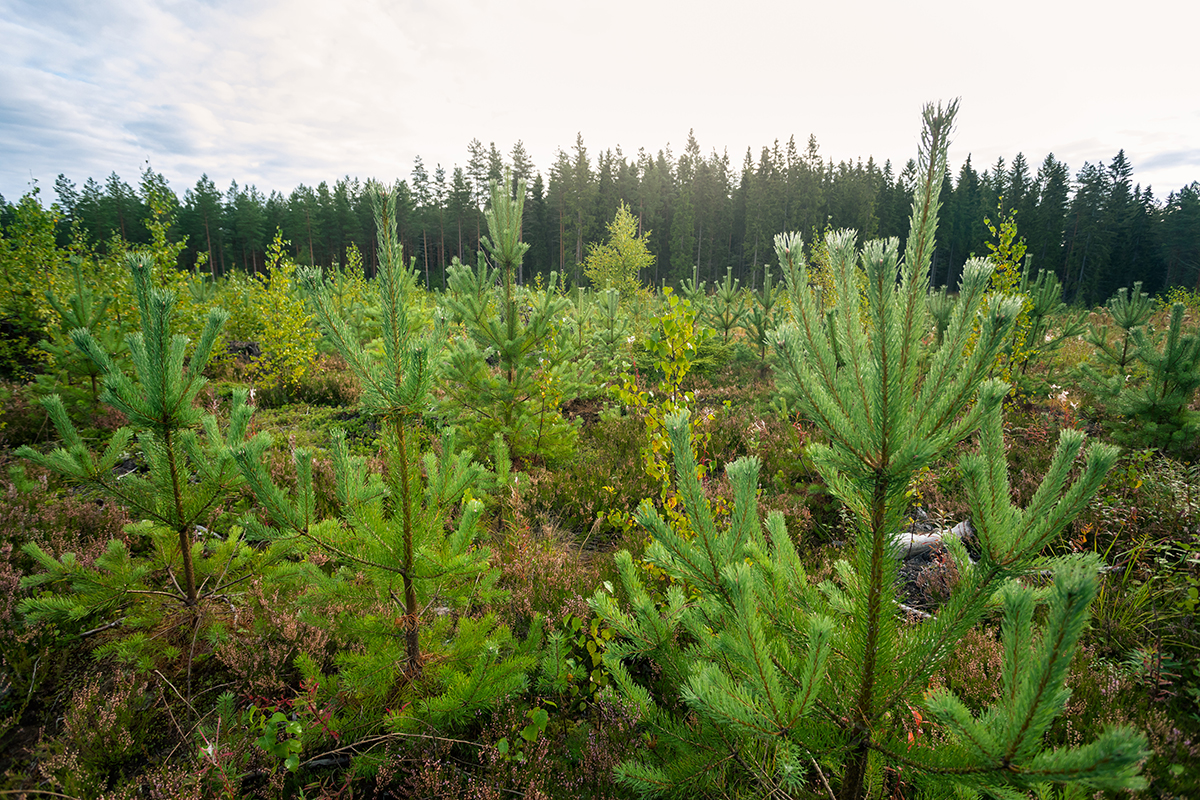 Since 2014, the Finnish Forest Act has allowed continuous-cover silviculture, but few forest owners have seized the opportunity. Over the past five years, UPM has developed and implemented new methods in its own forests, in order to learn more about this new style of forestry management.
Throughout, data about each patch of forest must be collected, so that individual estates can be managed according to the owners' wishes and so that all plant and animal life can be monitored.
Finland's pattern of private forest ownership—Luke, the Natural Resources Institute Finland, estimates that around 60% of the country's forests are owned privately—means that UPM has to dedicate significant time to educating owners on why and how their forests should be managed sustainably, and why they should promote biodiversity for the health of the forest. One way to persuade them is by emphasising the environmental benefits, which are large.
Heli Viiri, Senior Manager – Forestry Development at UPM, says: "Doing thinning and cutting operations and planting new forest is more effective in working against climate change than eating salad. It's more effective than avoiding flying. When we do silviculture operations correctly, at the right times, we increase the carbon binding. If we use that wood for long-lasting products, we can help store carbon for decades."
The need for considerate, careful forest management is particularly acute in Nordic countries, where people consider forests and nature to be an important part of their lives. A questionnaire survey conducted by Yle, Finland's national public broadcaster, found that the vast majority of Finns cared deeply about the forests, with 76% concerned about potential losses of biodiversity.
As Viiri explains: "Forests are simultaneously a source of livelihood, recreation and food, as well as a spiritual home for the Finns. From a social point of view, forests are a resource with multiple benefits for various stakeholders." This means that the demand for forest products, such as wood, must be balanced against the benefits provided by the forests themselves. Viiri says: "We took all these aspects into account when we made a long-term promise guaranteeing sustainable forest management for decades. We are engaged in a dialogue with local people and respect their needs and rights. The main focus is to integrate biodiversity protection into our planning and harvesting operations, so we can ensure that our forest management operations have no depletive impacts."
A template for the world
Such efforts might be arduous, but they pay off. In 2015, Finland, Sweden and Norway released 169 million tonnes of carbon dioxide equivalents, almost equal to the 150 million tonnes sequestered by their forests. At the recent UN Climate Action Summit, held in New York, Finnish president Sauli Niinistö pointed out that the country will be carbon neutral by 2035 and "carbon negative" not long after. Finland's forests, and the way they are managed, play a crucial role in this achievement.
Well managed forests, worldwide, could help mitigate damage to the environment caused by other human activities. In fact, the conservation and restoration of forests featured in the "nature-based solutions" manifesto prepared for the UN. Despite this, there are few international compacts on forestry and the EU has no common forest policy, though it is moving towards creating one. The Nordic model of forestry can help show the way.
Text: Rachel Proby