Are you frustrated by the wasted hours spent in traffic jams? Do you feel bad about the emissions caused by motoring? Are your daily exercise routines too often too short? The solution might be simpler than you thought: commuter cycling. Among other UPMers, some people from UPM Pulp are once again donating to charity through cycling in the Finnish "Kilometrikisa" bicycle challenge. The campaign is encouraging people to pay attention to their own well-being by cycling to work and raising money for a good cause.

Every kilometre cycled increases the amount of donations used to support people in need. Donations will be channeled forward through the Finnish Red Cross: this year the help goes to the people injured by the war in Syria. The participants from UPM Pulp Helsinki office have already boosted the donation pot by cycling several thousand kilometres during the summer.

For many people from UPM Pulp Helsinki office commuter cycling is a way of life - not even the coldest winter freeze can keep them out of the saddle. Sometimes cycling can get you into tricky situations, though. Sauli Järvenpää from UPM Pulp´s Business Development team rushes to an interview running a little bit late due to a punctured tyre. However, tiny challenges don´t seem to have any effect on the man´s enthusiasm for the sport, on the contrary. So, what keeps driving him on a bike regardless of the circumstances and the season?

"Cycling makes journeys much faster, by bike I can get straight from my home door to the office door. In addition, you´ll get an hour of exercise without using any money or spare time at all. Also, one gets used to the nasty weather really fast. After the first winter of cycling days one knows that conditions could be a lot worse too!" Järvenpää sums up with a twinkle in his eyes.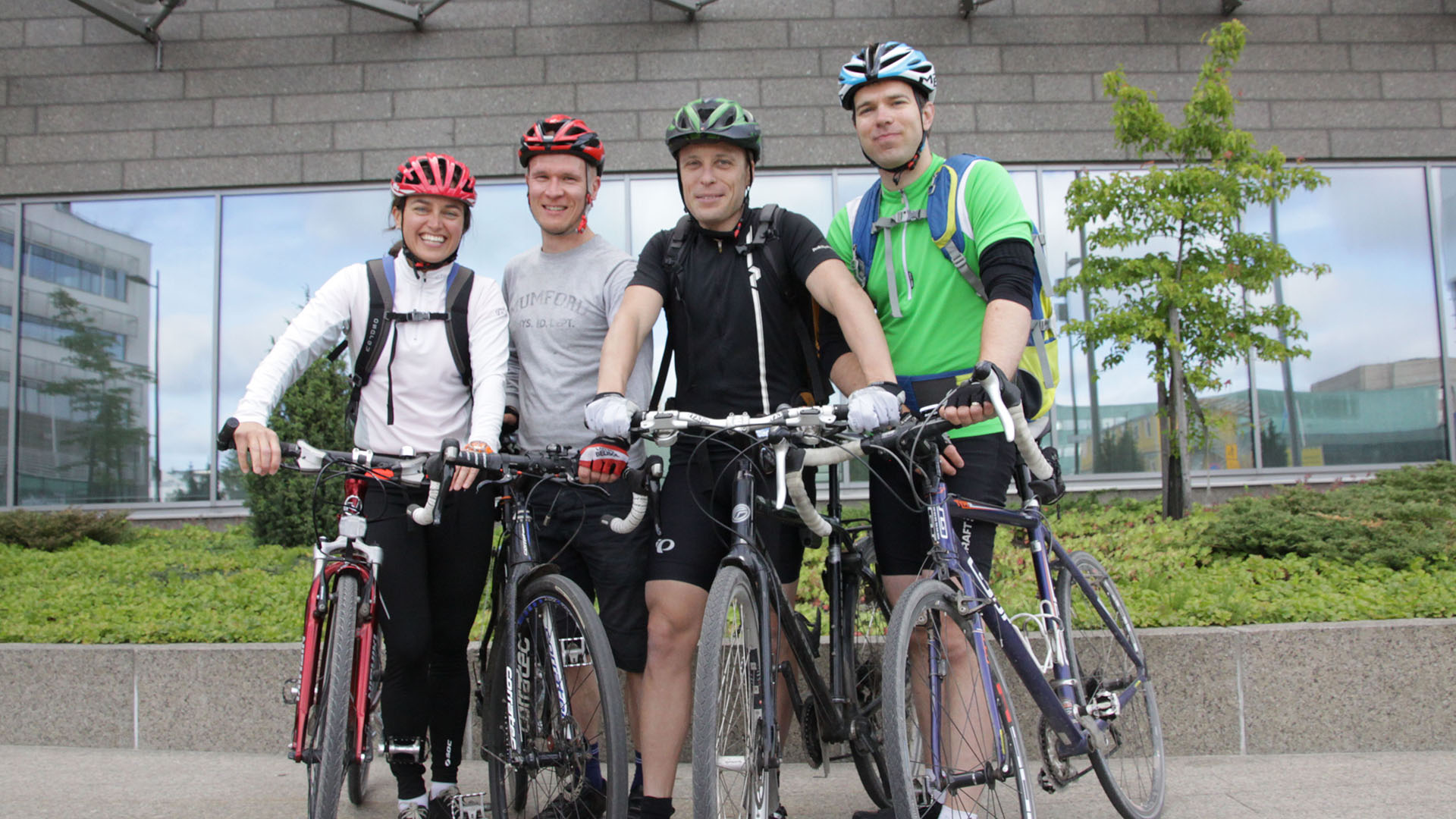 Natasha Rubanin-Hildén Sauli Järvenpää, Marko Sundqvist and Tuomo Vepsäläinen from UPM commute to work on their bicycles.
Tuomo Vepsäläinen from UPM Pulp Business Controlling completes the plus sides of commuter cycling: "Of course I could also use the car to go to work but by cycling one can save a few litres of fuel and other expenses created by motoring. This means saving money for yourself and for charity at the same time – not to even mention the environmental benefits that cycling can have."

The campaign is aimed at both those who already cycle to work and to those still considering it. Even a few kilometres of daily cycling can develop your basic fitness level without you even noticing it. Starting a day on a bike can also provide a new perspective on the whole working day.

"When cycling one really wakes up to the new day. And the big difference compared to the metro is that from the saddle of a bike one can enjoy the beautiful landscape," says Natasha Rubanin-Hildén from UPM Pulp´s marketing department.

The competition runs through the whole summer. It has gathered already over 29,000 participants from various teams, companies, communities, associations, and clubs all around Finland. It is organized by the network of municipalities that promote biking and the Finland Cycles campaign.