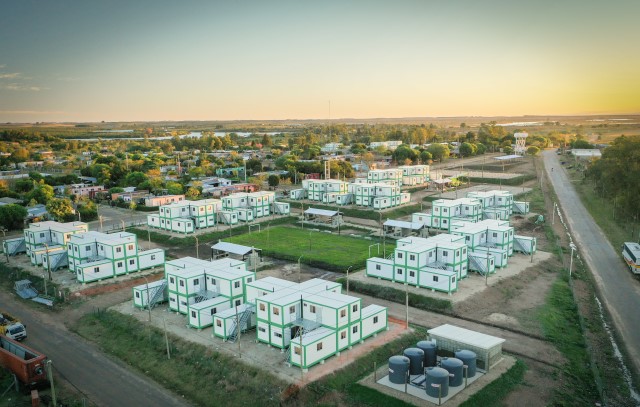 (UPM, Paso de los Toros, 5 May 2020) As part of the construction of UPM's Paso de los Toros pulp mill in Durazno department in central Uruguay, the housing solutions plan is progressing and the construction of the first housing blocks in Charrúa neighborhood in Paso de los Toros is completed. These blocks will be occupied by local workers from several Uruguayan companies as of May.
The design and planning of the housing solutions for the construction workers were established to enable a positive integration into the local communities as well as in the geographic distribution. The construction of the temporary housing blocks carried out in Charrúa neighborhood, started in August 2019.
The houses of this site were built entirely by a local company from Paso de los Toros and offer proper level of comfort and services to the workers. The housing solutions are designed with blocks, which consist of four 77 m² houses, including four bedrooms, four bathrooms and a shared living-dining room. The maximum capacity of each module allows up to 12 persons, three per bedroom. In the current sanitary context, the versatile layout of the modules allows easy adaptability considering the preventive measures recommended by the authorities.
About the characteristics of the first housing block site
The site has recreational zones such as grills, sports fields and common areas. In addition, it includes access to optical fibre network and proximity to a boarding point in order to facilitate transportation of workers to the mill construction site. The module site also has electricity, lighting system, sanitation and a modern reservoir and pressurization system of drinking water to supply all the modules, even at the same time.
This concept of housing solutions was jointly planned by the Ministry of Housing, Land Planning and Environment (MVOTMA), the Land Planning Directorate (DINOT), the National Housing Directorate (DINAVI), the Planning and Budget office (OPP), the Ministry of Labour and Social Security (MTSS), the Municipalities of Durazno and Tacuarembó departments, and UPM, constituting an opportunity for local and regional development. The planning was carried out based on the labour protocols agreed by the MTSS, the chambers of Construction and the Metallurgy, the Single National Union of Construction and Annexes (SUNCA) and the National Union of Metal and Branch Workers Related (UNTMRA). In total, the housing solutions plan will generate about 400 jobs at the peak of construction.
After the construction of the pulp mill the modular solutions will be removed whereas the infrastructure improvements will be available for the development of permanent houses according to the plans of the MVOTMA and the municipalities of Durazno and Tacuarembó. All aspects were carefully considered in order to achieve the best solutions to provide comfort and habitability to the workers, taking care of responsible and full integration into the community.
For further information please contact:
bcw | burson cohn & wolfe (+598) 27100757