UPM and Tietoevry are committed to supporting and developing Futures School run by the Children and Youth Foundation. Futures School provides Finnish secondary schools with tools and learning materials to promote future-related education. The platform and learning materials are free of charge and openly accessible to everyone, and their aim is to strengthen young people's faith in the future and in their own capabilities to cope with the challenges of a changing world.

"Digital Futures School offers educators research-based pedagogical materials to help integrate futures research methodologies and practices into teaching. For students, it offers inspiration and tools for imagining possible futures though creative and critical thinking," says Otto Tähkäpää, futures researcher and founder of Futures School.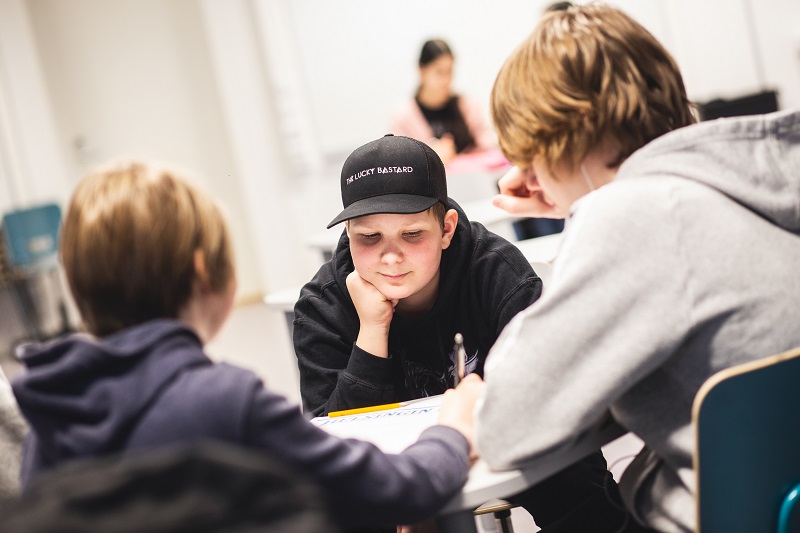 "A responsible company is one that is constantly looking ahead and seeking new solutions. We want to be involved in creating a sustainable future in which fossil-based raw materials are replaced with renewable ones," says Kaisa Vainikka, Director, Social Responsibility at UPM. "It is important for us to engage in active dialogue with young people on the subject of sustainability, and we believe that through Futures School, we can do our share to support young people in shaping their future path – while at the same learning something new ourselves," concludes Vainikka.
"At Tietoevry, we see technology as holding great potential for further developing society, but we can also identify possible threats and recognise numerous alternative future scenarios. Technology is shaping the future that young people will inherit from us – and that's why we want to involve them in discussing the future and the responsible use of technology," says Kia Haring, Head of Communications and Sustainability at Tietoevry.
Futures School is an award-winning pioneer in futures education in Finland and internationally, providing children and young people with knowledge, skills, and opportunities to understand the future and have the courage to influence it through their own choices. Futures School trains hundreds of education professionals annually in futures education methods and provides learning materials for schools to use.
Read more: The Children and Youth Foundation
For further information please contact:
Paula Tyrväinen, Program Manager, Futures School, tel. +358 40 530 2989 
Kaisa Vainikka, Director, Social Responsibility, UPM, tel. +358 40 038 2843
Kia Haring, Head of Communications and Sustainability, Tietoevry, tel. +358 40 765 3700
UPM, Media Relations
Mon-Fri 9:00-16:00 EET
tel. +358 40 588 3284
media@upm.com
UPM
We deliver renewable and responsible solutions and innovate for a future beyond fossils across six business areas: UPM Fibres, UPM Energy, UPM Raflatac, UPM Specialty Papers, UPM Communication Papers and UPM Plywood. As the industry leader in responsibility, we are committed to the UN Business Ambition for 1.5°C and the science-based targets to mitigate climate change. We employ 17,200 people worldwide and our annual sales are approximately EUR 11.7 billion. Our shares are listed on Nasdaq Helsinki Ltd. UPM Biofore – Beyond fossils. www.upm.com
Follow UPM on Twitter | LinkedIn | Facebook | YouTube | Instagram | #UPM #biofore #beyondfossils
Tietoevry creates purposeful technology that reinvents the world for good. We are a leading technology company with a strong Nordic heritage and global capabilities. Based on our core values of openness, trust and diversity, we work with our customers to develop digital futures where businesses, societies, and humanity thrive. Our 24,000 experts globally specialize in cloud, data, and software, serving thousands of enterprise and public-sector customers in more than 90 countries. Tietoevry's annual turnover is approximately EUR 3 billion and the company's shares are listed on the NASDAQ exchange in Helsinki and Stockholm, as well as on Oslo Børs. www.tietoevry.com
The Children and Youth Foundation believes that a meaningful and sustainable future is built together with the youth. Our future-oriented work aims to support every young person to have a sense of meaningfulness in their life. The Children and Youth Foundation was founded in 2001. Together with the youth and our broad network of partners, we are building a world where everyone can lead a meaningful life. We reach annually around 20 000 young people. www.nuori.fi/en/