The new UPM Paso de los Toros pulp mill has reached the technical readiness to start operations. UPM has also received the environmental authorities' acceptance of all the procedures, systems and technologies that are required to fulfil the environmental permit of the mill. This approval precedes the final operating authorization, which is expected to be received in a few weeks. UPM will announce when the authorization is received, and operations can start. First customer deliveries are expected to start within the first month following the start-up.

"The finalisation of UPM Paso de los Toros completes our transformative growth investment in Uruguay. Over the years, UPM has created a highly competitive industrial platform with sustainable, secure wood-supply and efficient logistics in Uruguay. This offers a competitive and secure pulp supply to new and existing customers and helps meet the growing need for renewable materials. With an over 50% increase in UPM's current pulp capacity, this investment creates a step change in the scale of our pulp business and UPM's future earnings. It also has a significant impact on Uruguay's economy and creates significant opportunities for the people and communities", says Jussi Pesonen, CEO and President.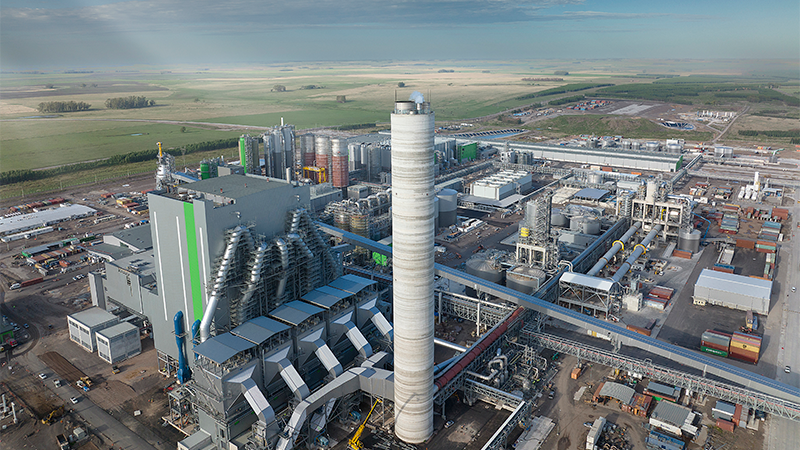 In addition to the pulp mill, the overall investment of USD 3.47 billion includes a deep sea-port terminal in Montevideo, a new eucalyptus tree nursery and local investments in infrastructure and facilities. All of these are already completed and in operation.
"The Paso de los Toros pulp mill with its annual production capacity of 2.1 million tonne of eucalyptus pulp puts us among the leading pulp suppliers in the world. We now have a balanced asset base and wood supply in two hemispheres. With two pulp mills in Uruguay and three pulp mills in Finland, we have a strong offering of sustainable hardwood and softwood pulp for our customers," says Bernd Eikens, Executive Vice President of UPM Fibres.
With the expected cash cost level of approximately USD 280 per delivered tonne of pulp that UPM can now confirm, the UPM Paso de los Toros will be one of the most competitive mills in the world and enables attractive returns for the investment in various market scenarios.
The Uruguayan environmental authority has monitored the construction of the mill on site throughout the project. The operating authorization process has included several inspections during the commissioning phase by the authorities, as well as third party audits by industry experts. UPM has submitted all permit requirements and an extensive environmental monitoring programme covering water and biota, air, soil, noise, and socio-economic aspects. In addition, UPM has all the required permits in energy, municipality, transportation, fire department and industrial regulations.
"The UPM Paso de los Toros pulp mill represents the latest, best available technology and the mill has gone through comprehensive and thorough permitting processes to ensure safe and sustainable operations. I am extremely proud of the UPM team that has carried out this entire strategic growth project with determination and integrity," says Jussi Pesonen.
Through the growth investment, UPM and its subcontractors will create 4,000 new jobs through the value chain, as well as approximately 6,000 induced jobs and a 2% increase in GDP for the Uruguay economy.
For further information please contact:
Saara Tahvanainen, VP Stakeholder Relations, UPM Fibres, tel. +358 40 589 0223
UPM, Media Relations
Mon-Fri 9:00-16:00 EEST
tel. +358 40 588 3284
media@upm.com
UPM
We deliver renewable and responsible solutions and innovate for a future beyond fossils across six business areas: UPM Fibres, UPM Energy, UPM Raflatac, UPM Specialty Papers, UPM Communication Papers and UPM Plywood. As the industry leader in responsibility, we are committed to the UN Business Ambition for 1.5°C and the science-based targets to mitigate climate change. We employ 17,200 people worldwide and our annual sales are approximately EUR 11.7 billion. Our shares are listed on Nasdaq Helsinki Ltd. UPM Biofore – Beyond fossils. www.upm.com
Follow UPM on Twitter | LinkedIn | Facebook | YouTube | Instagram | #UPM #biofore #beyondfossils