It's easier to run a business when things are predictable. Your job is simpler if you know how much you will spend next month to power your factory and how many euros you will receive from your deal in Japan. But the truth is that the price of electricity and the Japanese yen – euro exchange rate could change and disrupt your plans. The way companies guard against this is by hedging.
"Companies hedge because it increases the ability to forecast, and decreases volatility and unexpected risks," says Timo Javanainen, Director of Hedging & Financial Trading at UPM Energy.
Hedging can help a company hit budget goals, manage timing of transactions, help lock in profits or protect against losses. It is not a new concept: there are indications that even businesspeople in ancient Rome did it.
There are many ways for a business to hedge risks, but one of the most popular is via futures. Futures are contracts obligating the buyer to purchase an asset and the seller to sell an asset at a predetermined date and price. Futures can either entail delivery of the physical commodity or be financially settled against an index. They are standardised and traded on exchanges just like other financial instruments.
"UPM has been using commodity futures actively for about 20 years," Javanainen continues. "For example, we produce and use a lot of energy so we often hedge energy prices."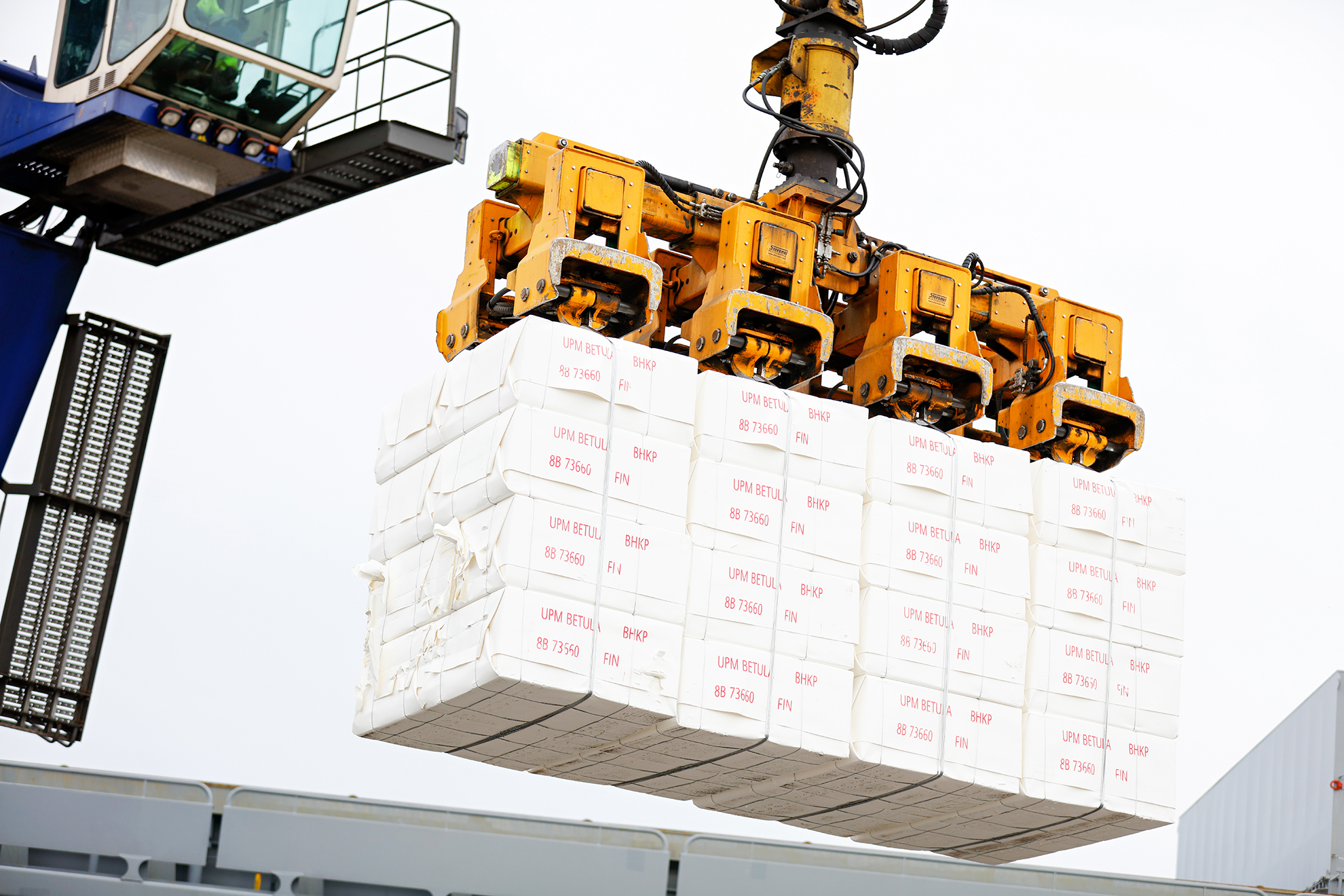 Pulp bales being delivered to customers from Pietarsaari harbour.
New availability of pulp futures
Commodities are some of the most popular futures contracts. A food company might use futures to lock in the prices of wheat and corn for their products, while a manufacturer might do the same for the metals they need. A new development is wood pulp futures.
"There have been a few attempts in the past to establish pulp futures, but, generally speaking, they all failed due to lack of industry interest. Since then, if you wanted to hedge pulp prices you needed to go to a trader or broker in the so-called over-the-counter market, where you don't know whether your contact trades to her own book or flips the volume to another party – and with what mark-up," says Sauli Järvenpää, Manager, Fibre Business Forecasting and Analytics at UPM Biorefining. "But more recently, there are two exchanges which are offering pulp futures trading."
In 2015 the Norway-based NOREXECO began offering pulp and paper futures contracts. The volumes are still low as NOREXECO continues to attract industry interest. A few years later the Shanghai Futures Exchange began trading softwood pulp futures.
"Private investors have joined the RMB-based local pulp market on the Shanghai Futures Exchange to make the market incredibly liquid so far," says Järvenpää. "A key difference to NOREXECO futures is that these contracts are for the physical delivery of pulp."
Now, the two exchanges are cooperating. NOREXECO has a financial future that settles against the final delivery settlement price of the physically settled contract in Shanghai. This opens the opportunity for non-Chinese groups to hedge pulp with physical backing on an exchange without committing to the physical delivery of the pulp.
Opportunity to work with partners
Pulp prices can be quite volatile. For example, the Fastmarkets RISI index leapt about 57 per cent in 2009 as the recession ended. In 2019 the opposite occurred, and prices dropped almost 30 per cent. These sharp changes in prices can be frustrating to a company who needs to buy pulp. Retailers might require a fixed price for a coming consumer campaign, leaving a specialty paper or tissue producer at the mercy of changing market prices.
"Now, if a company has agreed to sell paper in six or nine months, they can hedge the pulp price," explains Järvenpää. "Our customers could reap the benefit of a newfound ability to forecast their margins."
Järvenpää and Javanainen hope that industry participants give a fair look into tools everyone has at their disposal now. If a UPM customer is curious about hedging with pulp futures they are encouraged to get in touch.
"We are happy to learn together with our customers," says Järvenpää. "Talking about this could help us better understand how we can manage price uncertainties and create value together.
Text: David Cord
Main image: Nicholas Cappello - Unplash