Few Finnish packaging designers have had the opportunity to grow together with a global company originating from Finland. Ulla Uimonen started working for the mobile phone giant Nokia in 1995, just when the company was entering its most rapid years of growth.
"Nokia was a tremendous experience for me. My colleagues and I were relatively young, and within this peer group, we set high goals for everything we did. Young people working for Nokia were given a lot of authority and responsibility, but I never felt I wasn't offered support when needed," Uimonen recalls.
For Uimonen, an international career was self-evident. After graduating from the Lahti Institute of Design, she finished an internship in Finland and then relocated to Ireland. While working for Jefferson Smurfit, one of Europe's leading paper and packaging companies, Uimonen designed packaging for several well-known international brands, such as Braun and Microsoft.
"I was a novice, so in my thinking, I wasn't limited by any conventions. I was treated with great acceptance, and the combination resulted in many innovative solutions," says Uimonen.
The art of streamlining
Nokia's intensive years of growth allowed Uimonen to be part of an international work community. She led a global team at a time when the annual packaging volume of mobile phones grew from 20 million to 450 million. During Uimonen's nearly 20-year career at Nokia, a total of 4.5 billion units of phone packages were produced.
After Nokia, she joined Microsoft and founded her own company, Taitos, in 2016 with fellow designers Mika Mattila and Eeva Wallin. The most important lesson of the fast-paced Nokia years has been the ability to design very condensed packaging, including only the essentials and nothing extra.
"For me, quality design means creating a solution that utilises every single fibre in the package."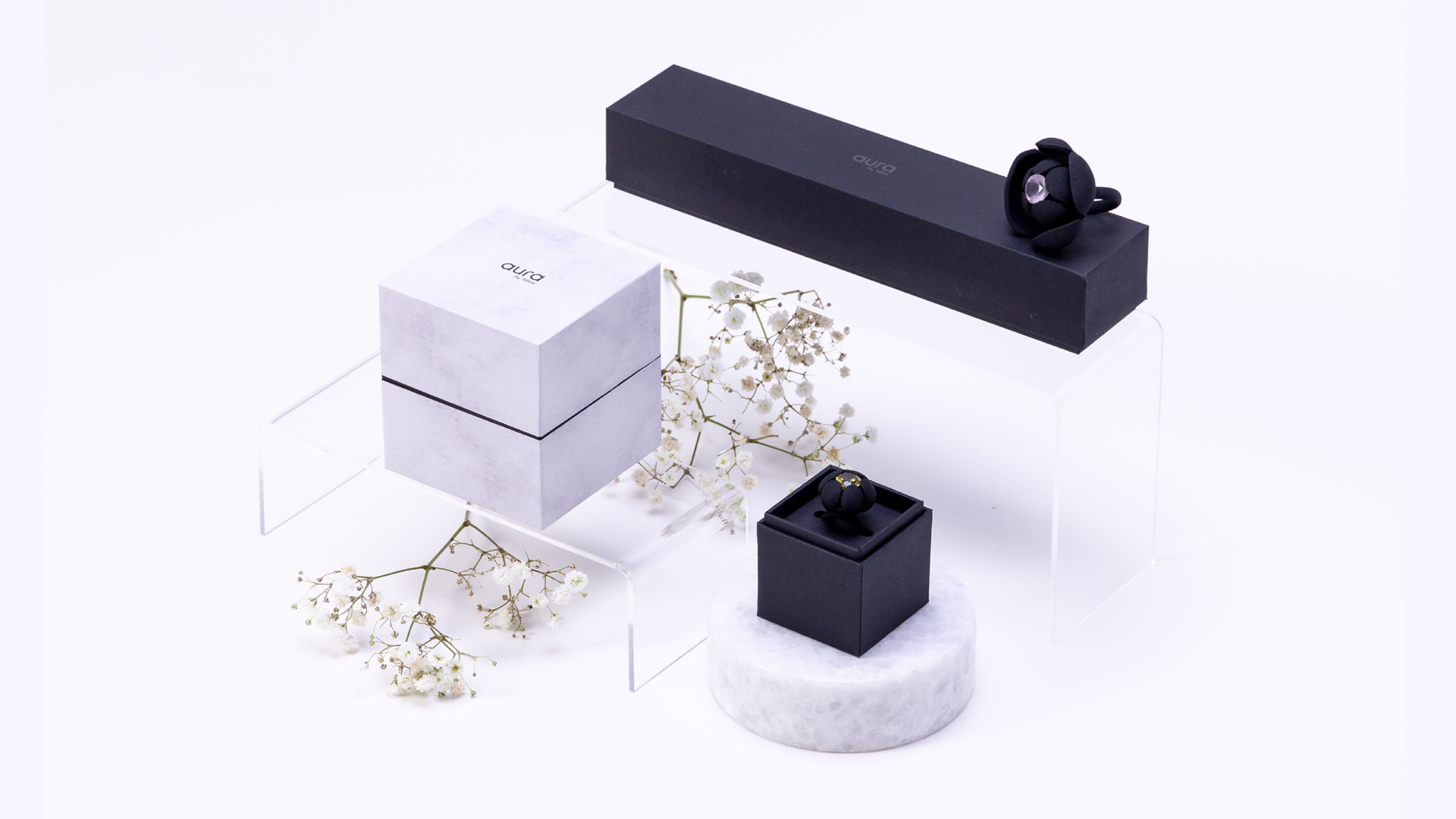 The Aura by Taitos concept is a sustainable luxury rigid package that travels and is stored in flat format.
Packaging as a calling card for sustainability
Environmental issues have been a natural part of packaging design throughout Uimonen's career. She was instrumental in creating a progressive environmental strategy for Nokia. Up to 97 per cent of Nokia's packaging portfolio was paper-based, and eventually, all packaging could be made from either recycled or FSC/PEFC-certified material. The progress achieved in environmental and sustainability issues related to packaging design set an example for the entire company, says Uimonen.
Responsible packaging is the sum of many things. Design, proper labelling, and production methods ensure that materials are recyclable. Proximity with manufacturing reduces the need to transport empty packages and shortens delivery times. International certifications and transparency in the production chain ensure there is no room for illegal material flows.
"Packaging is a concrete calling card of the company in the eyes of the consumer. Functional packaging protects the product, builds the company's image, and helps to create effective distribution channels. Responsible packaging is not a substitute for corporate responsibility concerning, for example, the manufacturing methods of a product. It is, however, an aspect of sustainability that is easy to take care of."
Uimonen points out how consumers today are conscious about various issues. Packaging will quickly reveal if there is a discrepancy between the company's actions and sustainability messaging. Small and efficient packaging is appreciated, and over-packaging draws immediate attention. There is a common need to find various ways to replace plastic. For Uimonen's corporate customers, sustainability is non-negotiable, but also the need to make a lasting impression is an important part of the design process.
"As soon as I see that the design starts to include elements that please the customer, we have made progress. The moment when we define a common goal is gratifying for my creative process," Uimonen says.
China still a mega-market for packaging
The packaging market is rapidly growing in Asia. China has emerged as a capable packaging producer, as the manufacturing of products has largely moved to Asia. Taitos, led by Ulla Uimonen, is also working with Chinese operators.
"Producing packaging close to manufacturing makes sense. The know-how in packaging in China is currently on a really high level, and they have all the technical know-how."
However, logistical challenges and component shortages caused by the covid-19 pandemic have shifted production away from China. Uimonen does not foresee a collapse of the packaging market in China, although she believes that some of the production will move to Europe.
Finland is a small market and cannot compete with China with regards to production volumes. On the other hand, Finland is known worldwide for its innovative and sustainable materials. However, new investments are needed to enable the efficient production of smart packaging solutions. Transferring consumer goods manufacturing closer to Europe would create a greater demand for new brands and innovations.
"China is very competitive and growth-oriented," Uimonen points out.
"They operate quickly, and the level of service is high. The Chinese know how to closely listen to customers' needs, are agile, efficient, and solution oriented. There is much for us Europeans to learn."
Text: Anna Gustafsson