"We are creating a synergy between two of the most profitable activities in Uruguay", says Rodrigo Fernández, award-winning Aberdeen Angus breeder and manager of Frigorífico Modelo, one of the Farms participating in UPM Forestal Oriental's Fomento Programme.
Created in 2005, the programme was conceptualised to supply UPM's Fray Bentos pulp mill with 30% of its wood requirements through partnerships with local landowners. The Fomento Programme allows landowners the possibility to diversify their traditional production activities such as cattle raising and agriculture with forestry through sustainable eucalyptus production.
Today, more than 120,000 hectares of land have been rendered productive with partnerships established with individuals, families, investment institutions, and rural associations. To meet the expectations of local producers, UPM Forestal Oriental has devised several business models which can be tailored to each producer's profile, ensuring maximum benefits for all stakeholders.
"The first partnerships were made through an associative model. In this case, UPM Forestal Oriental commits to purchasing the timber produced, and in return, helps the producers by guaranteeing them technical consultancy, contractors and highly productive seedlings," explains Guillermo Pereira, agricultural engineer and Regional Head of UPM Forestal Oriental's Commercial area.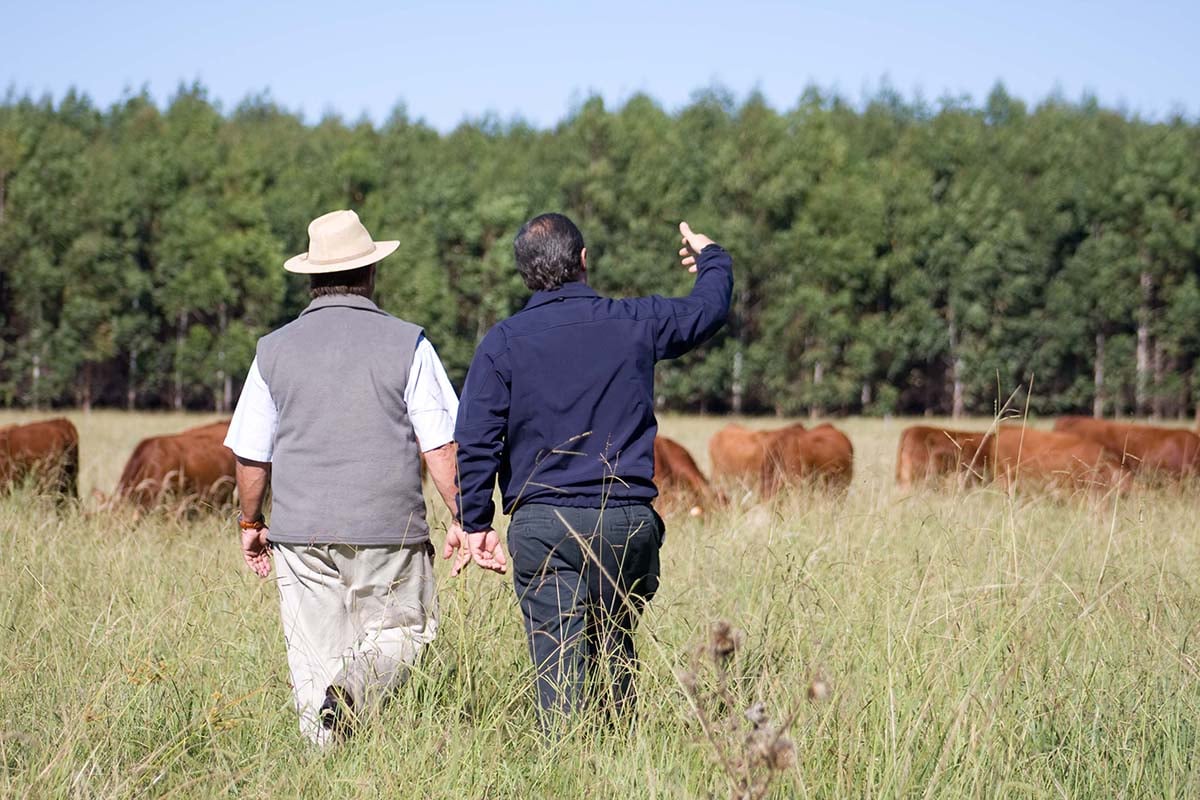 However, most of the producers are currently following the leasing model. In this, UPM Forestal Oriental carries out forestry activities on the partner's lands, and producers receive an annual income in dollars per hectare or by the percentage of wood produced.
A win-win situation
The biggest benefit for producers, according to Fernández, is the business' profitability. "For the type of field we're working on, stockbreeding and forestry are the most profitable activities," he explains.
Frigorífico Modelo is established in the departments (administrative sub-divisions) of Tacuarembó and Durazno, in central Uruguay, and is spread over 3,200 hectares. They have been raising the Aberdeen Angus breed since 1960, making them one of the most renowned farms working on this breed in the country.
Since 1990, Frigorífico Modelo has been planting Eucalyptus trees on their lands. "It's a booming business because it lets us grow to more than 800 or 900 livestock units," says Fernández. The establishment has been working alongside UPM Forestal Oriental since 2017, and their contract extends to two forest cycles, which is equivalent to 22 years. At present, forestry activities are being carried out on 13% of the enterprise's land.
The Fomento Programme gives the producer the opportunity to diversify their production and ensures their economic stability by establishing prices for the purchase of wood. For Frigorífico Modelo, "forestry is an activity which minimises or hides the costs. This activity comes at no extra cost to us," Fernández reveals.
Forest synergies
Additionally, UPM Forestal Oriental provides around 75,000 hectares in unplanted areas over which producers in the Fomento Programme have priority in case they wish to locate their livestock there for grazing, capitalising also on the shade and shelter offered by the woods for their animals.
Another benefit of the Fomento Programme is the Forest Synergy project. Implemented in 2017, it links UPM Forestal Oriental more closely to local producers who own breeding farms. The aim is to create synergies between the Associated Producers within the Fomento partners' network, as well as continuing with the integration of stockbreeding, forestry and local communities.
"What we are aiming for is to attract new customers," says Fernández. The idea of ​​the Frigorífico Modelo, for instance, is to sell bulls to the Fomento partners.
Text: Josefina Mösle