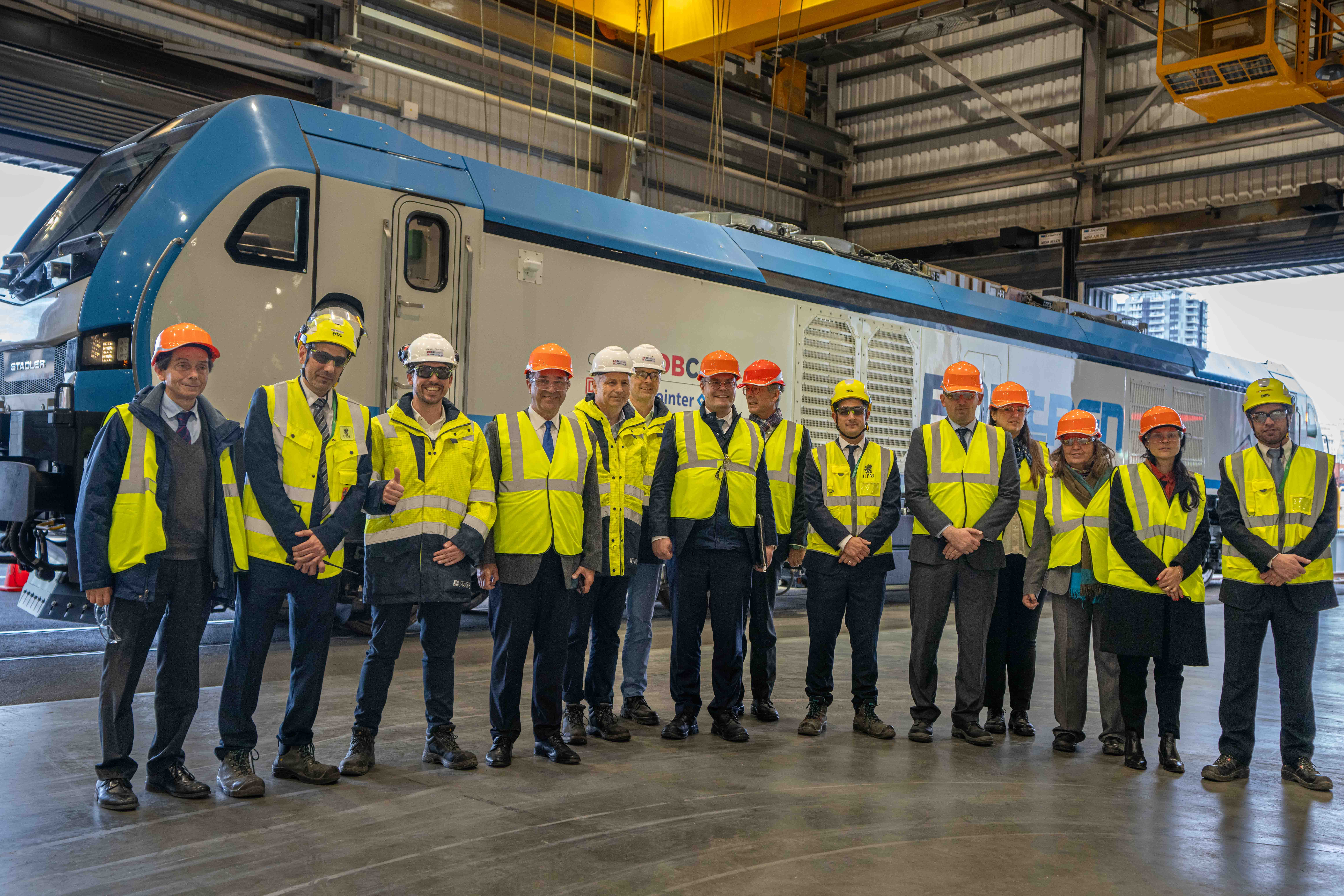 (UPM, Montevideo, 14 September 2023, 18:00 GMT-3) – As part of the visit of the German Minister of State at the Federal Foreign Office, Dr Tobias Lindner, to Uruguay to explore the anticipated operations of Uruguay's Central Railway, top executives of DB International Operations toured UPM's pulp terminal in the port of Montevideo.
The international consortium DBCC Transport, consisting of the Spanish infrastructure and services development company Cointer Concesiones (Grupo Azvi), Uruguayan logistics specialist Christophersen Group and DB International Operations, will operate and maintain trains for UPM. Running 273 km from the centre of the country to the port city of Montevideo in the south, the freight line promises to provide a lasting stimulus for Uruguay's economy and labour market.
Together Cointer Concesiones and Christophersen Group make up Portren SA, the investment group that provides the rolling stock and Operation and Maintenance Center that DBCC Transport will use to carry out their activities. The start of the railway operations is planned for the first half of 2024.
DB International Operations CEO Niko Warbanoff highlighted the significance of the project for Uruguay:
"This ambitious project stands as a beacon of modal shift and environmental stewardship. As it ushers in an era of efficient transportation, this rail line not only promises to boost Uruguay's economy and labour market but also a way to a greener, more sustainable future. Transporting over 2 million tonnes yearly per rail, the project will reduce congestion on Uruguay´s roads and contribute to the country's global climate targets. We are proud to be part of this significant project."
"During the visit we were able to appreciate the great enthusiasm of the Uruguayan team getting ready for the imminent start-up of the railway operation. We are pleased to work with top level international companies that will strengthen the country's multimodal logistics by providing experience and proven technology from the railway industry," says Gonzalo Giambruno, Director UPM, Uruguay Industrial Logistics.
In view of the imminent start of operations on the railway, DBCC has set up the organisation and started delivering training to drivers and technicians within its local capacity-building strategy. The first locomotives and wagons have been received and testing and commissioning is underway.
About DB International Operations
DB International Operations specialises in operating and maintaining railway systems outside Europe. The company is part of Germany´s railway company Deutsche Bahn (DB), the number one operator for passenger and freight rail transport in Europe and one of the largest mobility and transport providers worldwide. Applying the long standing rail experience of DB to international railway projects, DB International Operations takes over operational responsibility and builds high performing operations and maintenance organisations. The company offers both passenger rail transport and freight rail transport for newly built and existing railway systems.
For more information
bcw | burson cohn & wolfe (+598) 27100757