UPM has today published an updated Green Finance Framework reflecting its Biofore strategy and integrating the most recent market practices and standards. UPM published its first Green Financing Framework in 2020 and has since issued three Green Bonds totalling to EUR 1,750 million.
S&P Global Ratings has reviewed the Framework under its updated "Shades of Green" methodology and assessed its alignment with the ICMA (The International Capital Market Association) Green Bond Principles. UPM´s updated Green Finance Framework has received the highest "Dark Green" shading from S&P Global Ratings, in line with the framework established in 2020.
UPM has a clear role in the transition towards a future beyond fossils and is in a unique position to advance circular economy. Responsibility also plays an important role in UPM's financing and gives investors an opportunity to promote activities such as climate change mitigation and adaptation and the UN Sustainable Development Goals (SDGs).
The updated framework covers Eligible Green Projects and Assets from following categories:
1.   Sustainable forest and plantation management
2.   Climate positive and circular bioeconomy adapted products and solutions
3.   Renewable or CO2-free energy
4.   Pollution prevention and control, including waste management
5.   Sustainable water and wastewater management
6.   Energy efficiency initiatives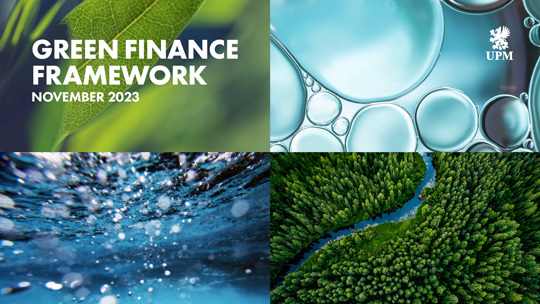 As in the 2020 framework, the first three categories of the updated framework were shaded as "Dark Green". In the Pollution prevention and control, including waste management category, UPM was able to lift the shading to "Medium Green", further strengthening the overall shading.
SEB acted as adviser on the structuring of the updated framework.
Full details on UPM's Green Finance Framework and the Second Party Opinion can be found on our webpage.
For further information please contact:
Kenneth Råman, Senior Vice President, Treasury and Risk Management, UPM, tel. +358 2041 50094
UPM, Media Relations
Mon-Fri 9:00-16:00 EET
tel. +358 40 588 3284
media@upm.com
UPM
We deliver renewable and responsible solutions and innovate for a future beyond fossils across six business areas: UPM Fibres, UPM Energy, UPM Raflatac, UPM Specialty Papers, UPM Communication Papers and UPM Plywood. As the industry leader in responsibility, we are committed to the UN Business Ambition for 1.5°C and the science-based targets to mitigate climate change. We employ 17,200 people worldwide and our annual sales are approximately EUR 11.7 billion. Our shares are listed on Nasdaq Helsinki Ltd. UPM Biofore – Beyond fossils. www.upm.com
Follow UPM on X | LinkedIn | Facebook | YouTube | Instagram | #UPM #biofore #beyondfossils